Our Tailor-Made
Trip Planning
01
Hop on a quick call with a local expert from our team
02
Receive a tailor-made itinerary for your journey
03
Fine-tune the details and you're ready to go
Key Takeaways
Hydra is a picturesque island in close proximity to Athens, known for its aristocratic and cosmopolitan atmosphere, rich history, and naval tradition.
The island's town, built on two rocky hills around the harbor, is a shining example of Greek island aesthetics and is protected as a traditional settlement.
Hydra is easily accessible by ferry from Piraeus and other nearby islands, or by car to Metochi and a short boat ride to the island.
Visitors to Hydra can enjoy walking through the narrow alleys of the town, exploring historical sites, trying delicious local cuisine, witnessing breathtaking sunsets, and experiencing the vibrant nightlife.
---
Donkeys on Hydra Town - credits: stella photos/Shutterstock.com
An island that is both incredibly picturesque and in close proximity to Athens, the capital of Greece, sounds like a fragment of the imagination. Well, it's not. It exists and goes by the name of 'Hydra.'
Aristocratic, cosmopolitan, with a rich history and great naval tradition, Hydra is one of the most famous and popular of the Saronic islands.
Built amphitheatrically on two rocky hills around Hydra harbour, Hydra's town is considered a shining example of Greek island aesthetics and is protected by the Tax Office of Byzantine Antiquities as a traditional settlement.
Where is the Greek Island of Hydra Located?
Hydra - credits: pixabay. com
The island of Hydra belongs to the Saronic islands, alongside Aegina, Agkistri, Poros, and Spetses. It is located in the Aegean Sea between the Myrtoan Sea and the Argolic Gulf.
It is separated from the Peloponnese by a narrow strip of water and looks like the most picturesque village you've ever seen.
In ancient times, the island was known as 'Hydrea,' which is a direct reference to the natural springs that are found on the island.
How Do you Get to Hydra?
Hydra Island, Greece - credits: S-F/Shutterstock.jpg.com
Hydra port can be reached from the Piraeus port and the Greek islands of Poros and Spetses.
The duration of the journey for the typical 'Flying Dolphin' ferries is 1.30-2 hours, while the ferry services are frequent, especially during the summertime.
Alternatively, you can access the beautiful island of Hydra by car up until Metochi, an area opposite Hydra, where there is a designated space to leave your car, and in ten minutes, you can pass through Hydra by boat or by sea taxi.
Things to Do on Hydra island, Greece
Walk the Narrow Alleys of Hydra Town
Hydra Town - credits: Romas_Photo/Shutterstock.com
There is no denying that Hydra is a sight to behold. The dominating element of stone, its unique architecture, and its glamorous ambiance make taking a walk among its narrow alleyways a must.
Among the innumerable sights, the Bastions stand out with the cannons that dominate the imposing right and left at the entrance of the port and the bronze statue of Admiral Andreas Miaoulis, at the base of which his bones are buried.
Along the waterfront, there is also the Port Authority, which is housed in the old stone gunpowder depot, while for lovers of history and art, the island's museums are considered important monuments of cultural heritage.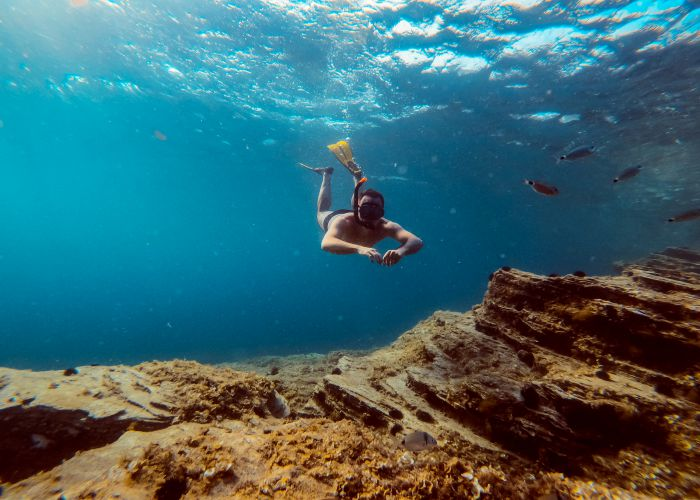 Diving in Greece - credits: Zivica Kerkez/Shutterstock.com
From the very first minutes you walk in Hydra's alleys, you feel that you have been transferred to another era.
Horns and lanterns have no place here, modern buildings give way to traditional houses with tiled roofs, dark blue doors, and windows, and time takes on another meaning.
Try its Delicious Cuisine Typical to the Greek Islands
Traditional Greek feast - credits: Nadir Keklik/Shutterstock.com
It wouldn't be a region of Greece if it didn't boast a long culinary tradition that makes even the most demanding of visitors salivate.
In the port, you will find the tavern 'Oraia Hydra' with excellent gastronomic offerings.
Next to it, you will also find 'Karamela,' which offers the best ice cream on the island. Inside the settlement, there are 'Annita's shop' and 'Xeri Elia,' which have been operating since 1825. Leonard Cohen wrote a song for this tavern and visited it many times with his friends.
Greek food - credits: ORLIO/Shutterstock.com
The most famous culinary offering of Hydra is its beloved almond cookies. They are made with rose water, lemon zest, and honey and are a reference point for the island as they are interwoven with its history. With fresh Greek products, you can never go wrong!
What's more, its traditional local dishes include stuffed squid, the well-known 'fisherman's pasta,' mussels with plenty of parsley, and sea bass with a salt crust.
Don't leave the island without trying at least a couple of them in order to get a grasp of the local culture; food in Greece is not to be missed.
Catch the Sunset from Hydra Harbor
Greek sunset - credits: pixabay. com
At sunset, you will see people leaving the port and walking to 'Kanoni,' which translates to the 'Cannon' in Greek and is one of the most gorgeous spots to catch a sunset in Greece.
Kanoni is dominated by decommissioned cannons and where the wonderful view of the Saronic Gulf spreads.
From there, you will enjoy the most epic sunset of your life. In fact, if you reach the area after a rainstorm, the spectacle is beyond all expectations as the sun tilts and hides in the clouds, and tassels of light bathe the neighboring islet of Doko and the sea.
Enjoy the Nightlife
Dance club - credits: bbernard/Shutterstock.com
Hydra boasts a fun and varied nightlife. Most hangouts are quite sophisticated and relaxed, but there are also bars where you can dance the night away until the early morning hours. Among its top nightlife offerings, you will find the following:
Amalour
Pirate Bar
Papagalos
All three are excellent choices that are popular among the locals and promise an unforgettable time.
Sip on your cocktail while you take in your astonishing surroundings and leave all of your worries behind!
Hydra - credits: pixabay. com
Climb mount Eros
With an altitude of almost 600 meters, Mt Eros in Hydra is the highest mountain on the island and the most romantic mountain in the country. Its latter element is also shown in its name, which translates to 'love' in Greek.
The panoramic view of the island, the Saronic Gulf, and the Myrtos Sea create a truly unique feeling that makes hiking in Greece worth it.
The incredible hike to reach the top of the mountain includes the beautiful church of Agios Konstantinos of Hydra and the Monastery of Profitis Ilias, where the Greek hero of the Revolution, Theodoros Kolokotronis, was imprisoned for some time.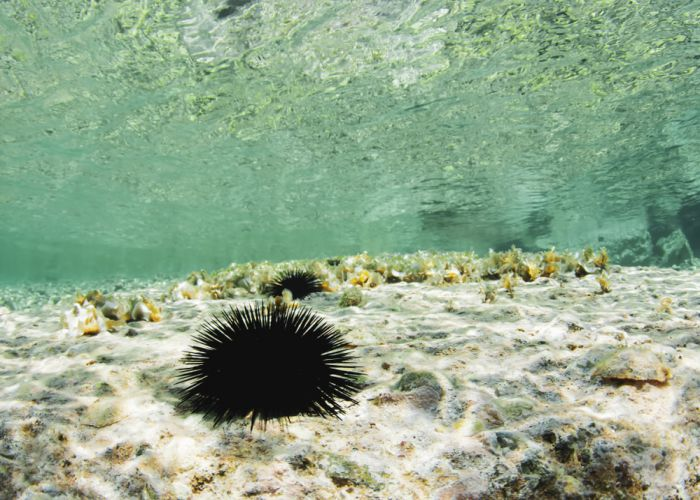 Sea urchin - credits: Viviana Delidaki/Shutterstock.com
Pay a visit to the Mansion of Koundouriotis
Above Hydra's waterfront lies the impressive historic house of Lazaros Koundouriotis, which today operates as a branch of the National Historical Museum.
Painted with natural ocher, it is the home of Hydra's nobleman and great shipowner, who played an important political role in the Greek War of Independence.
A typical example of traditional Hydriot architecture, it will catch your eye from anywhere on the island.
12-Day Family Trip to Athens, Nafplio and Hydra
BOOK NOW
It was built at the end of the 18th century, at the time of the prosperity of the island's economy and its naval supremacy.
In the mansion of this important political figure of modern Greece, important consultations were held on issues of the Revolution of 1821, and important personalities of the time, both Greek and foreign, were hosted.
On the ground floor, in the old cellars of the mansion, are permanently exhibited paintings by two renowned painters in Greece and abroad, Pericles Byzantios and his son Constantine, who were closely associated with the Koundouriotis family.
The top floor is presented as it was left by the last descendant of the family and donor, Pantelis Kountouriotis, with old furniture, utensils, mirrors, tableware, paintings, family portraits, personal items, and heirlooms of the Koundouriotis family.
Explore the Historical Archive - Museum of Hydra
For lovers of history, there is the Historical Archives Museum of Hydra which operates daily and displays important museum relics, archival material, and a library with valuable publications. The museum space operates on the ground floor and the first floor.
Relics of the Greek War, the Balkan Wars, and the First and Second World Wars are exhibited on its premises.
In the vestibule of the floor, you can find costumes, great works of art of the 18th-19th century, weapons of Hydra fighters, beautiful engravings, naval maps for the crucial sea battles that took place on the island, and other exhibits of great historical significance.
The Best Beaches in Hydra
Cliff jumping in Hydra island, Greece - credits: EpicStockMedia/Shutterstock.com
Some beaches are easily accessible on foot or with the famous donkeys. In other, you can go by water taxi. Wild beauty and caves, with pebbles or sand, compose a fine art of nature on a small island less than two hours from Athens!
Vlichos Beach
The beautiful seaside traditional settlement of Vlychos offers a magnificent view. All-white cottages with large whitewashed courtyards stretch to the foot of the adjacent hill above the beach.
Vlychos Beach is accessible on foot, following either the coastal road or passing through the city of Hydra. Alternatively, you can access it by water taxi. Of course, the pebbly beach is organized with umbrellas and sunbeds.
There are refreshments and coffee snacks as the picturesque taverns prepare your meal with fresh fish and Mediterranean cuisine.
Mandraki Beach
As you stand at Hydra's port, looking at the sea, you see a coastal road on your left. If you follow the road, after about 20 minutes of a steady footpath, you'll find Mandraki beach.
This is a small cove with an organized beach, as there is a homonymous hotel and beach bar, and it is among one of the most gorgeous beaches in Greece.
The beautiful beach boasts a sandy shore, making it the only sandy beach in Hydra without pebbles.
Just before you reach the beach, there is a nice fish tavern with fresh fish and seafood and affordable prices.
Hydra - credits: pixabay.com
Spilia Beach
Very close to the Hydra's harbor lies one of its jewels, which is also a trademark of the island, the beach of Spilia.
Steep, beautiful rocks in shades of gray create the perfect setting for diving in clear blue waters in style. Some rocks have been formed into platforms for sunbathing, offering a unique beach experience to its daring visitors.
Hydronetta Beach
Nearby Spilia Beach lies the beach of Hydroneta, located in perhaps the most beautiful part of the island. It can be found below the famous cannons on the rocks.
As a result, it is suitable for long dives from the rocks in the crystal clear deep waters, while here, too, plateaus for sunbathing have been created. There is also a café in the area that allows you to enjoy snacks and refreshments all day long.
Greek sea - credits: sebastian voortman/Pexels.com
Avlaki Beach
After Hydroneta, you will come upon Avlaki, a beautiful small beach full of pebbles.
It is an ideal spot to admire the sunset, while at night, it gets beautifully illuminated, offering a special summer spectacle.
In order to reach it, all you need to do is go down the steps that can be found immediately after Hydroneta, and you will find yourself in front of green-blue waters and a small pier where you can sunbathe.
Kamini Beach
Aerial view of Hydra - credits: Aerial-Motion/Shutterstock.com
Kamini beach is located within walking distance of the city (about a 15-20 minute walk), following the scenic coastal road. Of course, you can also access it by boat or sea taxi.
Mikro Kamini -which translates to 'Small Kamini' in Greek- is a beach with fine pebbles and wonderful waters.
It is located next to the picturesque homonymous port and provides its visitors with opportunities for coffee, drinks, great food, and sunbeds.
Hydra island - credits: pixabay. com
Bistri and Agios Nikolas Beach
At the pine-covered edge of the island, there are two stunning beaches, Bisti and Agios Nikolaos, full of pine trees and beauty.
Both have sunbeds and a beach bar that will offer you the basics: water, coffee, juices, and some snacks. They are both relatively quiet and stand out from the rest of Hydra's beaches.
Reasons to Visit Hydra During your Greek Vacation
Hydra - credits: Georgios_Tsichlis/Shutterstock.com
It is one of the most picturesque Greek islands.
You can walk to every corner of the island, and therefore, it is extremely convenient to explore Hydra.
As vehicles are not allowed in Hydra, you will have the opportunity to decompress without the sounds of a car or engine horn polluting the atmosphere.
wandering around the alleys of the island, you will discover fantastic shops with handmade creations and, of course, the shop of the internationally recognized designer Eleni Votsi who designed the Medal of the Athens Olympic Games.
It has major historical significance.
It has noteworthy architecture.
It has a rich local tradition you'll be able to get introduced to with the help of its locals.
Its luscious and diverse natural environment will enchant you and magnetize all nature lovers visiting. What's more, the island's mild climate allows for hiking all year round!
Where Should I Stay in Hydra? Hydra Best Hotels
Hydra - credits: pixabay. com
In Hydra, you may not find the abundance of accommodation options you can find on the rest of the Greek islands. However, you will find several that can meet every mood and budget.
Most accommodations are located in the port of Hydra, where the homonymous settlement and seat of the municipality are. Other accommodation is scattered in smaller settlements or coves of the island.
The island has rooms to let and hotels, several of which are of a high standard. It is no coincidence that Hydra has been considered a secular destination for years, while its landscapes appear in several Greek films.
Argosaronic Escapade: 12-Day Trip to Athens, Peloponnese, Spetses & Aegina
BOOK NOW
Greek Sea, Hydra island - credits: Aerial-motion/Shutterstock.com
Our top recommendation in regard to accommodation in Hydra includes Leto Hydra Hotel for a luxury, family-friendly stay. If you're in the mood for precious moments of romance, you can opt for Cotommatae Hydra 1810.
Of course, Four Seasons Hydra Luxury Suites is also an excellent, well-rounded choice, along with Hydrea Exclusive Hospitality and Orloff Boutique Hotel.
Final Thoughts
Hydra island - credits: pixabay.com
The cobblestone streets, the serenity the lack of vehicles offers, and the striking grandeur of Hydra make it an excellent Greek island destination every tourist would be happy to visit regardless of what they're looking for.
Follow our advice and book a few days in Hydra for a one-of-a-kind experience you won't be able to top.
If living inside a card postal sounds like something you'd like to do, look no further than Hydra and our Greece vacation packages!
Our Tailor-Made
Trip Planning
01
Hop on a quick call with a local expert from our team
02
Receive a tailor-made itinerary for your journey
03
Fine-tune the details and you're ready to go
Frequently Asked Questions
What is Hydra Island Known for?
Why is Hydra an Unspoiled Island?
What is Not Allowed in Hydra?