Our Tailor-Made
Trip Planning
01
Hop on a quick call with a local expert from our team
02
Receive a tailor-made itinerary for your journey
03
Fine-tune the details and you're ready to go
Greece is a food paradise for those who love Mediterranean cuisine. The food is healthy, flavorful, and often based on locally sourced ingredients.
While there are many international food options available in Greece, it is well worth exploring the traditional dishes on offer. Here is our ultimate Greek food guide; it includes some of the most popular dishes and products in Greece, as well as some tips on what to expect when dining out in this country.
How to Order Like a Local in a Greek Taverna
Greece may be famous for its rich history and striking landscapes, but if you thought you were only coming for statues, beaches, and an iridescent sun, think twice. Greek cuisine is at the core of Greek culture, and its delights are not be missed by anyone who visits the country.
Everything made in Greece is fresh, rich, satisfying and packed full of flavor. However, similar to many other holiday destinations, trying to navigate tourist traps can be challenging, and even when you do, you may find yourself unsure of what to order. That's why we're here; let us give you a head start and show you how to order like a local!
First off, you should understand that meals are more like social events to Greeks rather than just an exercise in satiating hunger. Greek food is to be shared and so, our advice is to order local delicacies and share them with your friends and family. The dishes will arrive as soon as they're ready, however, you are under no pressure to hurry.
It's completely normal to take hours over lunch and dinner, trying different dishes, drinking wine and coffee, and enjoying fruits or pastries as a dessert after your main meal. In many old tavernas, they will even invite you into their kitchen to show you what's the specialty dish of the particular day.
As soon as you sit at the table, the waiter will most likely bring you a basket of bread, either soft or toasted. sometimes sprinkled with a little salt and oregano, and instead of butter, put olive oil on the table to drizzle it with.
Across Greece, depending on where you are, the appetizers will differ but, on the whole, you can count on tzatziki, tirokafteri (spicy cheese spread), taramoslata (fish roe dip), melitzanosalata (aubergine spread) and of course horiatiki salata (Greek Salad). Horiatiki is a much-loved local favorite and usually comes in an enormous bowl; plenty for you to share!
Apart from the typical Greek salad, there are quite a few salads worth trying. The Cretan Dakos salad is truly delicious and consists of rusk dakos bread that softens with moisture mixed with olive oil, tomato, olives, capers, herbs, and feta or mizithra cheese.
Other delicious starters to try are dolmadakia (rice stuffed vine leave parcels), keftedes (meatballs), cheese saganaki (fried cheese), spanakopita (spinach pie) and skordalia (a puree of potato, garlic, olive oil & vinegar that normally goes with fried cod, bakaliaros). Although they are called appetizers, don't be fooled, their size make it ideal for a main course as well.
The main dishes to add to your Greek feast vary depending on which part of Greece you're in. Often, in tavernas or restaurants, whether they are in the Greek Mainland or the Greek islands, you will see on the menu dishes which are best described as family favorites; the sort of dishes our Greek grandmothers cook! Here are a few of them you must try:
Pastichio- A sort of Greek 'lasagne,' usually consisting of minced beef or lamb in a béchamel sauce with layers of pasta sheets between.
Moussaka- Based on sautéed aubergine and tomato with minced meat (usually beef), similar to both the Egyptian and Turkish version. However, the Greek take on this dish is also topped with béchamel sauce. Yummy!
Melitzanes Papoutsakia- stuffed baked aubergine with minced meat and béchamel sauce-essentially mini moussakas! 'Papoutsakia' translates in Greek to 'little shoes'!
Check out: Our popular Athens night food tour and wine tasting experience!
Meat dishes
Souvlaki - credits: gioiak2/Depositphotos.com
Loukanika- Greek sausages. A hit across both adults and children alike!
Souvlaki- A world favorite Grilled meat (either lamb, pork, or chicken) served on a skewer, wrapped in pita bread with tomatoes, onions, tzatziki, lettuce, and crispy french fries.
Arni sto fourno me patates- Oven-baked lamb with potatoes and garlic, can also be cooked with chicken, flavored with lots of lemon juice.
Seafood
Seafood - credits: mariakraynova/Depositphotos.com
Greece is ever so fortunate in that whilst it has the perfect climate to grow many fruits and vegetables, it also has access to beautifully fresh seafood. So, remember to ask your waiter for the catch of the day and whether there are any local dishes specific to the area. For example, on the island of Symi, the local favorite is Symi shrimps, little fried shrimps. Of course, the following suggestions are but a few examples!
Chtapodi – grilled octopus is usually served as a main., while boiled and marinated with vinegar is usually served as a starter.
Kalamari- squid, usually fried and absolutely delicious! There is also a baked and stuffed calamari version, usually with feta or spinach -do try it, you won't regret it!
Barbounia- red mullets often fried with a crunchy smoky taste
Astakomakaronada- spaghetti with lobster, simple and finger-licking good!


Vegetarian dishes
Horta - credits: Orlio/Shutterstock.com
Vegetarians welcome to your Mecca because Greece is the best place for vegetarians as it has one of the most vegetarian and vegan-friendly cuisines in the world. Therefore, forget enduring a sub-par vegetarian version of a dish and join us for a veritable banquet of delicious meals!
Gemista- whilst this is also a meat dish, the vegetarian version is baked stuffed vegetables (such as tomatoes or peppers) with a rice-and-herb filling.
Kolokythakia Tiganita- courgette in a crispy batter that has been made with soda water to keep it light and crispy!
Horta- wild greens steamed and simply dressed with lemon juice and olive oil. Delicious as a light meal with potatoes or freshly baked bread.
Spanakorizo- rice cooked with spinach and onions, seasoned, and drizzled with lemon juice.
Tomatokeftedes- tomato and mint fritters fried in olive oil; a specialty to try if you're in Santorini!
Dessert
Traditional Greek ravani cake - credits: Alexander Narraina/Shutterstock.com
Greeks cook legendary desserts. However, in many traditional tavernas, you won't find a huge selection, because locals tend to prefer pasty shops for a luscious dessert after their main meal. However, often, after your meal, you may find a complimentary dish of watermelon or a slice of Ravani cake, a semolina-based cake that will leave the sweetest taste in your mouth!
Drinks
Wine
Greek wines - credits: Boarding2Now/Depositphotos.com
With the origins of winemaking in Greece going back to almost 6,500 years, Greeks certainly know how to make the most delectable of wines, and with many different varieties of grapes, there is something for every palate. You can try retsina, a dry white, resinated wine. Unfairly considered an unrefined 'people's wine,' this term in itself could be seen in another light. It's a people's wine for a reason, consistently a favorite of many! Here you will find a guide to the most popular Greek wine varieties.
Beer
Greek beer - credits: Alexandros Michailidis/Shutterstock.com
On a scorching hot summer day, a frozen glass of ice-cold beer is a tempting thought for most! Be sure to try beers from Greek breweries such as Mythos, Fix-Hellas, and Alpha. Our mouths are watering just thinking about it!
Liquors
Rakomelo - credits: http://kostastelife.com/
Ouzo, Greece's traditional anise-flavored liquor, is a world-renowned choice, as well as a local one. However, there are plenty of other lesser-known ones to try. Not for the faint-hearted, the fiery Tsipouroi s a good way to kick start your afternoon if you're up for fun times!
Alternatively, you can try its sweeter counterpart, Rakomelo, a combination of Tsipouro/Raki and honey blended with cinnamon and cardamom - yeap it is exactly as delicious and as dangerous as it sounds! It can be enjoyed cold in the summer or served hot as a perfect winter tipple.
Moreover, if you're a brandy enthusiast, try Metaxa, a Greek spirit invented by Spyros Metaxas in 1888, which is among the 100 strongest spirit brands worldwide. It is a blend of brandy and wine made from sun-dried Savatiano, Sultana, and Black Corinth grape varieties.
Additionally, you should try Mastiha, a unique liquor flavored with mastic, a resin gathered from the mastic tree found on the Greek island of Chios that has acquired a protected designation of origin in the European Union. Its taste is very distinctive, and we promise you that it's nothing like you've ever tried before.
Last but certainly not least, finish off with a local dessert wine such as Mavrodafni, made from the black grapes of Achaea; a sweet end to a sweet journey through flavor.
Since the best way to get local tips about Greek food is from local foodies themselves, here are the favorite authentic Greek dishes of the founders of Greeking.me:
- Anna's dish of choice is garides saganaki or shrimp saganaki, which is a dish of sautéed shrimp with tomatoes and feta cheese, served straight out of the pan with bread to soak up the juices. Absolutely perfect for lunch with a glass of Moschofilero white wine on the beach!
- Nikos' favorite is Mosxari yiouvetsi, which refers to slowly cooked beef in an aromatic tomato-based sauce with orzo pasta and mizithra cheese. Pair it with a glass of deep Xinomavro red wine, and you have the perfect dinner to share with family and friends!
The Most Delicious Greek Homey Recipes
Food is an integral part of Greek culture. I've said it before, I'll say it again. It's not just a means to survival for us, it is a sacred part of the day where nutrition meets tastiness. We take our munchies seriously. We may have talked about the Sunday dinner tradition in Greece, but what about the homemade dishes that make up the Sunday dinner? Find below the most popular Greek homey recipes that no self-respecting Greek home omits from its weekly diet plan.
Giouvarlakia
Giouvarlakia - credits: from my point of view/Shutterstock.com
Best savored during the colder autumn and winter months, but even served cold during spring and summer, giouvarlakia has been a staple to Greek homes for hundreds of years. As with most dishes of Greek cuisine, it is all about simplicity and fresh Greek ingredients and products.
Giouvarlakia is essentially a Greek meatball soup that consists of -you guessed it- meatballs that have rice in them, cooked on the stove in a soup of egg and lemon base. The result is little bites of delicious Greek meatballs engulfed in a thick creamy sauce-like soup that will leave you salivating. Amazing texture, amazing taste, and not a nasty ingredient to be found in this traditional recipe! If you have the opportunity to try it during your stay in Greece, don't pass it up!
You can find the recipe for giouvarlakia here.
Giouvetsi
Giouvetsi - credits: Dar1930/Shutterstock.com
Now, this dish is one of the most typical grandma foods you will find. Its smell alone transports me back to childhood and carefreeness. Giouvetsi is a Greek stew made traditionally with beef -although there are variables that use chicken or lamb- and orzo pasta baked in a tomato sauce that is usually spiced with cinnamon and cloves.
It can be cooked in the oven or even as a casserole dish. It is delicious, nutritious, a bit on the heavy side, but perfect for a family gathering nonetheless! It is one of the most popular and loved traditional Greek meals; anyone with a mouth is bound to love it!
You can find the recipe for giouvetsi here.
Gigantes
Gigantes - credits: ZAX 77/Shutterstock.com
Spicy, full of protein and filling, gigantes is the epitome of a simple combination of ingredients ending up in an explosion of taste. It is resourceful, vegan, and vegetarian-friendly Greek food no one can say 'no' to.
The dish consists of large baked beans but with a Greek twist: chili pepper and fresh herbs that upgrade the look and taste of the dish to a whole different level; no Heinz baked beans shenanigans. Legumes are a significant element of Greek gastronomy, and they are considered to be simultaneously the food of the poor -due to their negligible cost- and the most healthy food category. Try them the Greek way, and you'll become a huge fan yourselves!
You can find the recipe for gigantes here.
Mac and octopus
Octopus pasta - credits: Luca Santilli/Shutterstock.com
Now I get that this sounds weird, and yes, the smell coming out of the pot while it's cooking may not be the best thing your nose has ever been graced to smell, however, the taste of this rather unique Greek dish is truly rewarding. Combining fresh seafood -which can be found in abundance in Greece- with everyone's favorite carbohydrate can only result in magic and if you try it, you won't regret it!
It is a casserole that consists of octopus, pasta, and tomato sauce. The pasta of choice is traditionally macaroni, but of course, that depends on personal preference. If you're lucky, some local seaside taverns offer it, so if you see it written on the menu snatch the opportunity and have some, it may not be homemade, but it will still be a delectable experience! And of course, there is no better friend of a seafood dish than a glass of Greek ouzo!
You can find the recipe for octopus past here.
Pastitsio
Pastitsio - credits: Victority/Shutterstock.com
Everyone and their dog have heard about mousaka, the ultimate traditional Greek dish. However, there is also another meal, dare I say more popular than mousaka among the Greek homes, pastitsio. Similar to mousaka in regard to the look and preparation, pastitsio consists of pasta - usually penne- and a bolognese pasta sauce, topped with a rich, cheesy bechamel.
It is baked in the oven and it is a dish both kids and adults absolutely adore. Nothing screams 'homemade family meal' more than pastitsio and for one, I'm more than ok with it. The pastitsio one can find in Greek taverns are significantly heavier and more greasy than the homey version, but that shouldn't stop you from ordering a slice of it. After all, you have every right to indulge in rich meals while on vacation!
You can find the recipe for pastitsio here.
Spetzofai
Spetzofai - credits: Arkadiusz Fajer/Shutterstock.com
This spicy, rustic dish is a personal favorite. Spetzofai is made out of Greek sausages cooked in tomato sauce -I guess we have a thing for tomato sauce in Greece I was unaware of until now- and green peppers. Now, when I say sausages, I don't mean the rather bland, frankfurt-style ones.
In order for spetzofai to be the authentic, scrumptious meal every Greek knows and loves, the sausages used in the recipe must be country-style and spicy! Spetzofai makes up for a perfect meze to accompany your Greek spirit, while it is quick and easy to make! You can even get creative with the recipe and add in whatever you think goes best; provided that you've got your hands on high-quality sausages, it will turn out delicious anyway!
You can find the recipe for Spetzofai here.
Baked lamb with potatoes
Baked lamb with potatoes - credits: coffeeflavour/Shutterstock.com
One of the simpler yet most flavorsome cult-classic recipes is the oven-baked lamb with a side of baked potatoes. It is a go-to recipe when you want to please everyone and it is reserved for special occasions and celebratory events. The success of the dish lies in the slow baking of the meat, which should be crispy from the outside and tender on the inside, falling apart from the bone on its own accord.
Some people add mustard and lemon sauce to the potatoes before baking them, elevating the taste of the dish and making it a sight to behold. Finding baked lamb with potatoes shouldn't be too hard if you choose to eat in a traditional Greek eatery. Make sure to try this traditional delicacy, and you can thank us later.
You can find the recipe for the baked lamb with a side of potatoes here.
Cod and skordalia
Fish shop in downtown Athens - credits: Caron Badkin/Shutterstock.com
This traditional Greek dish is widely loved by Greeks and is eagerly anticipated to be cooked annually on the 25th of May, when the anniversary of Greek Independence is celebrated. However, it can be found everywhere all year round, especially during the summer months, as it's a great Greek summer dish.
The cod must be soaked in cold water a day prior and then dipped in a batter made with flour, salt, water, and yeast or beer. Then it is fried and served with skordalia, a paste made of mashed potatoes or soaked stale bread and garlic -like lots of garlic! It may not be the Greek dish you will choose for a romantic dinner date, but the match of cod and skordalia is one made in heaven!
You can find the recipe for the cod and skordalia here.
Briam
Briam - credits: VICUSCHKA/Shutterstock.com
Coming through with another vegan-friendly recipe, the traditional Greek dish Briam will prove once again that you don't need meat or complicated cooking methods for a flavorful meal. Briam is a mix of fresh Greek vegetables roasted, including potatoes, eggplants, zucchinis, and onions, flavored with a bit of garlic and coated with extra virgin olive oil.
The freshness of the Greek ingredients will impress you, as well as the simplicity and quickness of Briam's required preparation. Pair it with a slice of feta cheese and some freshly baked bread and you've got the perfect Mediterranean meal!
You can find the recipe for the briam here.
Kotosoupa

Kotosoupa (aka chicken soup) - credits: makafood/Pixabay.com
If you are visiting Greece in the winter, then the best traditional dish that you need to taste is Kotosoupa, meaning chicken and rice soup. This Greek soup is made with chicken, boiled until tender, rice, and creamy lemon and egg sauce that is added to the broth. The result is not only heavenly in taste but will keep you warm during the cold days of winter. And if you happen to get a sore throat during your ski adventures at the best ski resorts in Greece, then any Greek mother would know that kotosoupa is the perfect medicine!
You can find the recipe for the Greek Kotosoupa here.
The Best Greek Summer Dishes
Used to the warmer climate, as soon as the temperature starts to rise in Greece, the locals start living their best life! Along with the bikinis, sunglasses, and cold coffees, a must for the summer months, are the Greek summer recipes that are equal parts light, nutritious, and delicious, using some of the most popular Greek products!
Check out the best Greek summer dishes you should try during your stay in Greece and enjoy original Greek flavors under the brilliant sun - we promise there won't be a salad in sight!
Gemista
Gemista - credits: Phuong D. Nguyen/Shutterstock.com
One of the most popular and beloved Greek summer foods, gemista is a staple to every Greek's home. The dish of gemista consists of vegetables, more commonly tomatoes and green peppers but also aubergines, onions, and zucchinis, stuffed with rice and herbs filling, baked in the oven, and served with copious amounts of feta cheese. Gemista can be eaten hot straight out of the oven, but in the summertime, the Greeks prefer to eat them cooled from the fridge, as it is the ultimate Greek summer delicacy.
There is a version of gemista that includes minced meat in the filling, however, everyone in the office is partial to the meat-free version, which is more summery anyway, so this is the one we recommend. If you'd like to be taught the secrets of cooking the perfect gemista by a Greek chef, you can join us for an Athens Market Tour and Cooking Class and get hands-on experience in Greek gastronomy!
Check out the recipe for traditional gemista here.
Dolmadakia
Dolmadakia - credits: A Lein/Shutterstock.com
Equally traditional and a personal favorite, dolmadakia are delectable as they are addictive due to their small size and incredibly high yummy factor. They are stuffed vine leaves -we're nothing if not resourceful as a nation- that consists of rice mixed with spring onions, red onions, garlic, and other herbs, depending on preference, which gets cooked in the pot and is served with tzatziki, plain yogurt or a sauce made of yogurt and mint.
The taste of this Greek dish is unique and refreshing, and even though they are cumbersome to create due to the boring and tiring task of folding the vine leaves, their flavor is worth the effort.
You can get dolmadakia in a can, but they taste nothing like the real deal. Also, similarly to the aforementioned gemista, there is a version of dolmadakia that includes meat, yet once again, the vegetarian version is arguably the local favorite. Try those little bites of heaven and discover what the Greek summer tastes like!
Check out the recipe for dolmadakia here.
Shrimp Saganaki
Shrimp saganaki - credits: Bvlena/Shutterstock.com
In a country surrounded by the sea, it would be a crime not to enjoy the fresh fish and seafood the location of Greece generously offers, especially during the summer months, when you can relax in a fish tavern by the sea and sip on your ouzo while eating delightful meze.
Garides saganaki, or shrimp saganaki, is a delicious Greek dish of shrimp cooked in a pan with tomato sauce, herbs, spices, and feta cheese, usually on the spicy side, as most recipes include fresh chili. The feta cheese gives it a more creamy texture and enhances its flavor considerably.
It is usually served as a starter but can be eaten as a main course as well, and goes flawlessly with bread to soak up the delicious excess sauce off the plate. No respectable Greek tavern excludes shrimp saganaki from its menu, so you can find this one-of-a-kind dish pretty much everywhere. Therefore, you have no excuse to skip trying it; even if you are not a fish or seafood fan, after trying this Greek summer recipe, you are going to become one!
Check out the recipe for shrimp saganaki here.
Tourlou Tourlou or Mpriam
A summer dish that tastes and smells of childhood for the Greeks, tourlou tourlou is the epitome of food thrifting that results in a flawless combination of nutrition and deliciousness. Although its official name is mpriam, tourlou tourlou has prevailed, due to the fact that in Greek, it is a slang term that stands for 'everything all mixed up together.'
The definition of its name perfectly describes the actual recipe that consists of a wide assortment of fresh vegetables -you can put whatever you've got in your fridge- mixed with tomatoes, onions, garlic, and of course, the king of the Greek cuisine, olive oil.
Despite being a food that most kids tend to avoid, which I'm pretty sure happens because it doesn't come in a McDonald's bag, it is a summer favorite homey recipe for adults as it is light, refreshing, and easy to make! Serve it with a block of feta cheese, and enjoy your trip to flavorville!
Check out the recipe for tourlou tourlou here.
Stuffed peppers with cheese
Peppers stuffed with cheese - credits: argiro.gr
This Greek summer dish comes in different levels of spiciness and you can find it in most traditional taverns and ouzeri, since it's a classic Greek entree. The peppers are filled with feta cheese and fried in extra virgin olive oil. The saltiness of the cheese combined with the sweetness of the peppers create a mouthwatering combination, showcasing amazingly the wonders of Greek production.
Pair it with a glass of your favorite Greek spirit, and you'll discover what the Greek summer is really all about!
Check out the recipe for stuffed peppers with cheese here.
Kolokithokeftedes
Zucchini fritters - credits: Helena Zolotuhina/Shutterstock.com
If you happened to read some of our other food blogs about the riches of Greek cuisine, then you've probably already realized our love for the Kolokithokeftedes dish. This Greek entree is actually freshly grated zucchini, flavored with onions, dill, basil, coriander, and sometimes feta cheese, and made into little balls, which get fried. Served with some tzatziki or a regular yogurt sauce, this Greek delicacy gets happily devoured in summer by people of all ages!
Check out the recipe for kolokithokeftedes here.
Fried Kalamarakia
Fried Calamari - credits: thegluttonlife.com
Any fish tavern that respects itself would have kalamarakia, meaning fried calamari rolls, at the top of their menu! This summer dish is simple yet extremely tasty and loved by all. The calamari is sliced into rings and seasoned with herbs and regular flour or semolina and bread flour, before frying it. Golden and extremely crispy, they are served with salad or fries.
Add some freshly squeezed lemon juice on top of the calamari rings to elevate their taste and enjoy this iconic delicacy of Greek cuisine.
Check out the recipe for Greek kalamarakia here.
Fasolakia
Greek green beans - credits: olivetomato.com
Vegetables are in the spotlight of the Greek summer cuisine once again; this time it is Fasolakia, a green beans dish stewed in olive oil and tomato, that will make you fall in love with the traditional recipes of Greece. Healthy and rich in nutritional value, fasolakia are cooked in olive oil, since they belong in the ladera food category, meaning 'with olive oil,' which makes all the difference in the world when it comes to taste and texture.
When served with some feta cheese you will never want summer in Greece to end. Some recipes include potatoes and sliced carrots in the recipe, but however you'll find the dish, we are sure that tasting it will be life-changing.
Check out the recipe for fasolakia here.
Lemon Potatoes
Lemon potatoes - credits: grenglish.co.uk
The Greek lemon potatoes dish can both be served on its own as a main and as a side dish, depending on the mood and the appetite of those who eat it. Tasty, healthy, and light, it is an ideal dish for summer, when the heat makes you want to spend more time in the cool waters of the sea and less on the dinner table.
What makes this Greek dish different from regular roast potatoes is that, in this version, the potatoes are cooked in a chicken broth with olive oil, lemon juice, garlic, and oregano. They have the chance to absorb all the rich flavor while being cooked to golden perfection.
Check out the recipe for Greek lemon potatoes here.
Greek Sea Bass
Sea bass - credits: Toms Auzins/Shutterstock.com
Now, this list of Greek summer dishes wouldn't be complete without at least one fish option. The Greek seas are rich with many different species of fish and marine life, feeding the Greeks for generations. The Greek fishermen take their job very seriously, carrying the heritage of their ancestors when it comes to the art of their profession, which first and foremost respects the sea and its habitats.
The delicious Bass fish, also known as the Mediterranean Branzino, is an excellent dish that you can order in a traditional fish tavern on any Greek island. Stuffed with lemon wedges, rosemary springs, and red onions the fish is baked until crispy on the outside. White wine, lemon juice, oregano, and, of course, olive oil are added once it's done and served on a big platter.
Check out the recipe for Greek sea bass here.
Of course, apart from full-on meals, Greeks have special snacks reserved for summer. One of those is the -admittedly controversial- combination of watermelon and feta cheese! I know it sounds weird, but don't knock till you try it! It's a refreshing and tasty combination with the saltiness of the feta cheese complimenting the sweetness of the watermelon, a match made in heaven!
Additionally, nothing says 'summer' more than an ice-cold glass of Greek homemade sour cherry cordial or Vyssinatha. As a midday refresher or an afternoon treat, the delicious drink will satisfy your sweet tooth without adding too much to your calorie count.
An Introduction to Greek Pastries and Cakes
Greek Cakes
Cake is a very common food that gets served as dessert, breakfast, and, sometimes (If you're naughty), dinner for people all over the world. What makes Greek cakes stand out are their unique recipes that mostly use Greece's produce.
Locals cities, towns, and villages in Greece bake the most delicious cakes, using nuts and fruits, and, in this way, creating incredible and healthy delicacies.
One of the greatest cake-like foods that you can ever taste is the flavorful cake with syrup, called ravani. Ravani is made from semolina, drenched in orange syrup, and perfectly combined with ice cream. It is best served with a vanilla flavored ice cream or Kaimaki, a Greek classic ice cream with chewy texture and mastic flavor.
Another finger-licking good cake that is amazingly combined with ice cream is 'Karidopita.' It is a walnut cake, made with spices such as cinnamon and clove and drenched in syrup.
Walk inside a Greek bakery or patisserie, and with a single glance at this cake, you won't be able to resist its magical sweet look and taste.
If you are looking for a Greek cake recipe that is a couple of hundreds years old, Honey Pie or 'Melopita' is said to have been around since ancient times!
Known then as 'Melittouta,' the ancient Greek dessert is still enjoyed in Greece, especially on the island of Sifnos. Much like a Greek version of the all time favourite cheesecake, honey pie is made with traditional mizithra cheese on top of a crust and served on a plate with drizzling honey and cinnamon.
For the jam lovers, the Greek jam tart is a must. From the first bite, you can taste the freshness of the organic, hand-picked fruits that have been used to create this scrumptious dessert.

Traditional Greek new year's cake known as vasilopita with a lucky coin inside - credits: Athina Psoma/Shutterstock
Last but not least, if you find yourself in Greece in the winter, you are lucky! The Greek New Year's cake, called Vasilopita, is a seasonal treat that everyone has to savor, made by following an old, religious tradition. Greek families gather together on New Year's Eve to celebrate.
Then, they cut the cake in pieces and each family member gets a piece. The cake, though, contains a coin, and whoever finds the coin in their piece is considered to be blessed with luck for the whole year.
Greek Spoon Sweets

Greek cherry spoon sweet - credits: Marie C Fields/Shutterstock.com
A single visit to a Greek house will probably lead to someone offering you a small, decorated glass plate with syrup on it. The treat is considered too sugary, so it is served by the spoonful. Spoon sweets are simple to make and wonderful to taste. The recipe consists of water, seasonal fruits, and, of course, sugar. By combining these simple components, Greek people create a flavor like no other.
The variety of Greek produce allows the creation of numerous different spoon sweets. However, the versatility of Greek cuisine doesn't stop there; spoon sweets can also be used as a topping for yogurt or cakes.
Some Greek taverns will even treat you to a plate of yogurt and their traditional homemade spoon sweet as a dessert after lunch or dinner. How could you refuse that?
Greek Cookies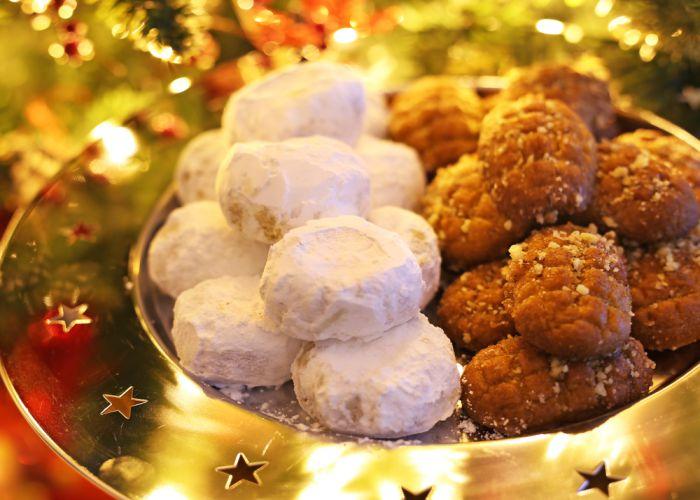 Traditional Christmas kourabiedes and melomakarona - credits: stella/Shutterstock.com
Spending Christmas in Greece is a dream come true! Strolling around the buzzing streets, admiring the ornaments of Christmas trees, and experiencing the holiday season, you are sure to detect the aroma of Greek Christmas treats.
One of them is Christmas butter cookies, otherwise called 'kourambiedes,' are covered in confectioner's sugar, which might not be the healthiest of choices, it does, however, give them an unparalleled flavor. The Greek Christmas honey cookies called 'melomakarona' are usually made from semolina, scented with cinnamon and orange juice and drizzled with lots of honey.
The combination of these local flavors can take you on a quick tour around the Greek holiday traditions and their mouthwatering taste!
It would be a shame though, if Easter didn't have its own delicious cookies. Greeks have a sweet-tooth, and it shows, as a Greek holiday can not be fathomed without its very own special treat. 'Koulourakia', the traditional cookies of Easter, are fluffy, crunchy and kneaded into braids.
Young kids are always looking forward to Easter, not only because the cookies are extremely delicious, but also because the preparation and braiding of the cookies can become a really enjoyable and fun activity for the whole family.
Traditional Greek sweets

Greek bougatsa - credits: Alexandros Michailidis/Shutterstock.com
Thessaloniki is the second biggest city in Greece, often considered by some the cultural and culinary capital of Europe.
If you happen to be in Thessaloniki, stop everything you're doing and rush off to taste Bougatsa, a custard pie with phyllo dough, garnished with icing sugar and cinnamon, and is usually served as breakfast. As a definite locals' favorite, you can't miss the chance to try it. In the Greek pastry shops of Thessaloniki, you can also taste a Greek rice pudding called rizogalo. You can thank us later.
Tip: Bougatsa or rizogalo are two of the 15 different tastings of Greek food that you can enjoy during our Athens Food Tour. *Wink wink*
Lastly, Pastel, a bar made of sesame and honey, is a light and nutritional snack. You can buy it everywhere in Greece, including convenience stores. You can either have it crunchy or soft and chewy and due to its small packaging, it's the ideal sweet to munch while taking a walk around Athens, while gazing at the Acropolis.
What makes it even more poetic? The very first mention of this age-old dessert is at Homer's Iliad, by Herodotus himself.
Traditional Greek pastries

The traditional dessert of loukoumades - credits: foodlove/Shutterstock.com
Of course, you cannot visit a Greek city, village or island and leave without eating some of the most well-known Greek desserts. These Greek honey puffs, known as loukoumades, are small, deep fried balls of dough with honey on top. If done right, the honey puffs are crispy, golden, and sweeter than Greece's sunset.

Greek baklava - credits: Alp Aksoy/Shutterstock.com
Greek halva is a vegan semolina pudding with raisins that takes you on a trip to flavor town. Depending on the region in Greece it is produced, Greek halva can also be flour-based or tahini-based. Either way, it is a healthy treat that you are going to love and is an excellent choice for an edible Greek souvenir to bring back to all your friends!
Traditional Baklava is one of the sweetest remnants of the Ottoman Empire. A sweet pastry made of hundreds of very thin layers of phyllo, filled with nuts and covered with syrup. Baklava is probably the most famous Greek dessert in the world, and for a good reason, you can almost taste heaven in one single bite of this pastry.
Special mention: Loukoumades
One of our favorite traditional Greek desserts is loukoumades. Loukoumas (single) is the Greek version of a doughnut; it's a bite-sized, sweet honey puff that is deep-fried until crispy. For us, loukoumades are a part of our culture and family menus, as our parents used to serve this dessert after the family dinner.
The dessert of loukoumades is especially great during the winter months, as it is traditionally served hot but can be enjoyed at any time of the year. Once you try these delicious honey doughnuts you will instantly understand their hype!
Versions of loukoumades can be found in many other countries. For example, in Turkey, they call them 'lokma' (meaning mouthful) and 'loukoumades' in Cyprus. What's more, in Italy, there is a dessert called struffoli but is different in size and only similar in taste.
Loukoumades with chocolate topping - credits: http://lukumades.com
The original loukoumades are served with hot honey syrup and freshly-grounded cinnamon on top, but you can opt for the more modern toppings of praline or chopped walnuts instead.
Loukoumades are a very famous and beloved dessert to Greeks of all ages, which explains the reason why there are many shops serving loukoumades across the city, where people can sit and enjoy their dessert, with one of our favorite being Lukumades, located in the heart of Athens.
There, you can enjoy your favorite coffee and a portion of fresh loukoumades which have been cooked in front of you, and top it off with either chocolate, chopped almonds, or just a more traditional topping of honey syrup, nuts, and cinnamon.
The history, tradition, and beauty of Greece cannot be contained in museums. It is found everywhere around the country and especially in its culinary tradition. Greek pastries and sweets carry the smell and flavor of the authentic Greek experience.
Ouzo: The Greek nectar!
The Greeks are known for their love of ouzo, a drink that has its roots in tsipouro and is a mixture of alcohol, water, and aromatic herbs, with anise being one of the major ingredients. The origin of ouzo's name is believed to come from the Italian phrase 'uso Massalia,' which translates to 'for use in Marseille', which was printed on some boxes of exportable silkworm cocoons from Tyrnavos in the 19th century.
For some reason, this phrase became a synonym to high quality ouzo. Another explanation for ouzo's name origin is that it comes from üzüm, a Turkish word meaning 'a bunch of grapes'.
The first distillery was founded in Tyrnavos, a municipality in the Larissa regional unit, of the Thessaly region of Greece, in 1856. Since then, 'ouzo Tyrnavou' is one of the most recognizable brands in the ouzo market. Nowadays, one of the largest ouzo producers in Greece is Varvayiannis, located in Plomari, a village in the south of the island of Lesvos.
The distillation of ouzo takes place in special distilleries, made of copper. After mixing the different ingredients, the mixture is boiled. After several hours of distillation, the 'heads and tails' (the initial spirit and the one at the end) of the distillate are removed, in order to avoid heavy aromatics. At this point, water dilution takes place and the final product is about 37.5 to 50 ABV (Alcohol By Volume).
Ouzo with meze - credits: dinosmichail/Shutterstock.com
Ouzo is a particularly strong drink and you should be careful when drinking it. A good piece of advice would be to drink it slowly, adding cold water to your glass, which is usually thin and tall, while accompanying it with some ouzo meze, meaning Greek appetizers such as octopus, salads, calamari or sardines, which are the most popular choices for snacks among ouzo-drinkers.
Drinking ouzo in a local seaside tavern will certainly be one of the highlights of your trip to Greece! If it is the first time that you taste this special drink, e highly recommend you try either Varvayiannis or Ouzo 12. These are two of the most popular and high-quality ouzo brands in Greece and can be found in almost every eatery you choose.
In general, the difference in taste between mainstream brand names of ouzo is not that discernable, so don't worry too much about it; you'll only be able to taste a difference If you are lucky enough to be entreated to try some homemade ouzo or if you find yourself in a remote village where they make their own. Despite this, however, a bottle of ouzo from one of the mainstream brands is still a marvelous sundowner and is best enjoyed with some ice & cold water.
Greek tavern by the sea serving ouzo along with traditional Greek dishes - credits: Veniamakis Stefanos/Shutterstock.com
Bonus Tip: The best Greek food blogs to follow
Akis Petretzikis: Cooking & Confectionery Recipes

The traditional Greek dessert of Halva - credits: www.akispetretzikis.com
We're starting off strong with our absolute favorite! Winner of reality cooking show 'Masterchef' in 2008, Akis Petretzikis has since become one of the most loved celebrity chefs in Greece. With two restaurants in Athens, several cooking books and a few tv shows on his track record, Akis is one of the most successful Greek food bloggers and for good reason.
He focuses on simple and easy recipes consisting of only a few ingredients, with his minimalist approach in cooking catering to the busy life of today's society. What makes him the best in what he does, however, is that his recipes are full proof; not even once has following one of Akis' recipes has led to anything else but success!
That's why he has gained the trust and love of the locals, with his website serving as the modern day kitchen bible for Greek homes.
Kouzounas Kitchen

The traditional Greek spread of melitzanosalata - credits: Cesarz/Shutterstock.com
Behind the Kouzounas Kitchen food blog, you can find Greek gastronomy mastermind Krystina Kalapothakos, a passionate chef and the author of the Back to My Roots cooking book. Following her graduation from the world-famous Le Cordon Bleu pastry school, she swiftly discovered her love for cooking.
Additionally, having grown up in the US and coming from a Greek background, her love for Greek food didn't take long to flourish, and the elements of Greek cuisine didn't take long to influence her cooking style. 'The name Kouzounas originated from my sweet Yiayia (grandmother), Stavroula Kouzouna Kalapothakou from Mani, Greece who was a fantastic home chef', she mentions on her blog explaining the inspiration behind her recipes.
Kouzounas Kitchen was created in 2012 with the encouragement of Krystina's friends in an effort to teach people the secrets of traditional Greek cuisine. The knowledgable chef combines tradition with expertise, making her blog one of the most educational ones.
Olive tomato

Greek-style pasta salad - credits: https://www.olivetomato.com/
Olive tomato is a food blog dedicated to the Mediterranean diet and its nutritious elements full, of recipes and cooking tips that aim to give an insight into Greek cuisine. The award-winning blog is run by a dietitian and nutritionist Elena Paravantes, a Chicago native that moved to Athens around two decades ago.
Her decision to move was driven by her love for Greece and its culinary tradition, which was inherited from her mother. Her go-to recipes include traditional Greek dishes, while her blog offers Greek recipes that cater to various dietary restrictions.
What's more, on her blog, Elena promotes the use of traditional Greek products, such as olive oil -which I bet you've already figured out given the name of her blog-, and Kalamata olives. She is adamant on showing that with high-quality raw materials, only a few steps are enough for a delicious and nutritious meal.
Additionally, she provides her audience with recipes from the whole of Greece, including the regions of the Peloponesse, Arcadia, Mani, Nemea, and Vytina, among others.
Eat Yourself Greek
Eugenia, the creator of the -wittily titled- Eat Yourself Greek food blog, introduces herself as a 'collector of family recipes.' Having shared her life between Britain and Greece, and now residing in Athens, for her, Greek food is a way of connecting with her roots and spreading the culinary tradition every Greek is proud of.
Easy recipes using fresh local products pack her online platform, where the simple flavors and plain flavor combinations are being raved about.
Additionally, Eugenia's cooking is not the only thing on the blog that's to die for; along with her mouthwatering recipes, the online presence is a visual feast for the eyes! As a result, her aesthetic site has earned recognition and was awarded 'Best Cooking Blog in English' in the 2015 Food Blog Awards.
From healthy creations to naughty, indulgent desserts, on Eat Yourself Greek, you can find a Greek recipe for anything your heart desires!
My Little Expat Kitchen
My Little Expat Kitchen is a result of Magda Zografou's love for food, counting already a decade of existence. It was created in 2009, when she moved to the Netherlands, as a leisure activity, where she shared her adoration for Greek cuisine and creatively expressed herself through her recipes.
The dishes found on the blog don't come exclusively from the Greek culinary tradition. Oftentimes, the recipes are a bit more international, but always with a Greek twist! Her unique and creative recipes, in combination with her flawless photography, make for an inspiring and motivating combination that lures you into the kitchen.
Born and bred in Athens, Magda's recipes combine tradition with experimentation and use a plethora of fresh vegetables, local cheese varieties, and a selection of other local products to create homemade delicacies. Her blog was awarded 'Best Cooking Blog' at the 2015 Food Blog Awards.
Souvlaki For The Soul
With a name like that, we couldn't possibly leave Souvlaki For the Soul out of our list. As Greeks, we relate to this name on a deeper level. The brainchild of Greek-Australian photographer Peter Georgapoloulos is one of the most visually pleasing Greek food blogs -as you might have already guessed- and it has been since its birth in 2007. The recipes are delicious, but even the photographs alone
Although all of the aforementioned Greek food blogs include vegan, vegetarian, gluten-free, and all other kinds of food requirements, an honorable mention should be given to The Gluten Free Greek and The Greek Vegan. Both of those Greek food blogs have managed to artfully adapt Greek cuisine to be savored by people that follow particular diets without sacrificing the taste or creativity of the dishes.
You haven't really experienced the true face of Greece if you haven't delved into the depths of food in Greece, regardless of the place you have chosen to visit. Consider this a sign to taste your way through our beautiful country by opting for one of our Greece vacation packages; a delicious journey awaits you in your Greece itinerary!
Our Tailor-Made
Trip Planning
01
Hop on a quick call with a local expert from our team
02
Receive a tailor-made itinerary for your journey
03
Fine-tune the details and you're ready to go