Paros Traditional Cooking Class with Transportation
Discover the local flavors of the island and learn the secrets of Greek cooking on a traditional cooking class with transportation in Paros!
Season
Daily (11.30 / 17.30)
Overview
After being transported to the location of the cooking class, you will be welcomed by the local chef with an aperitif. Following your warm welcome, it is time to get your hands dirty by preparing a 6-course meal you will feast upon at the end of your class.
Learn the secrets of Greek and Parian cuisine and accompany your meal with local wine or ouzo and fresh fruits from the garden. An unforgettable culinary experience for both kids and adults!

Cooking Class with an experienced cook and local tavern owner

6-course traditional menu, including a starter, a salad, 3 main dishes, and dessert

Comfortable transportation to and from the location of the cooking class

The menu can change upon request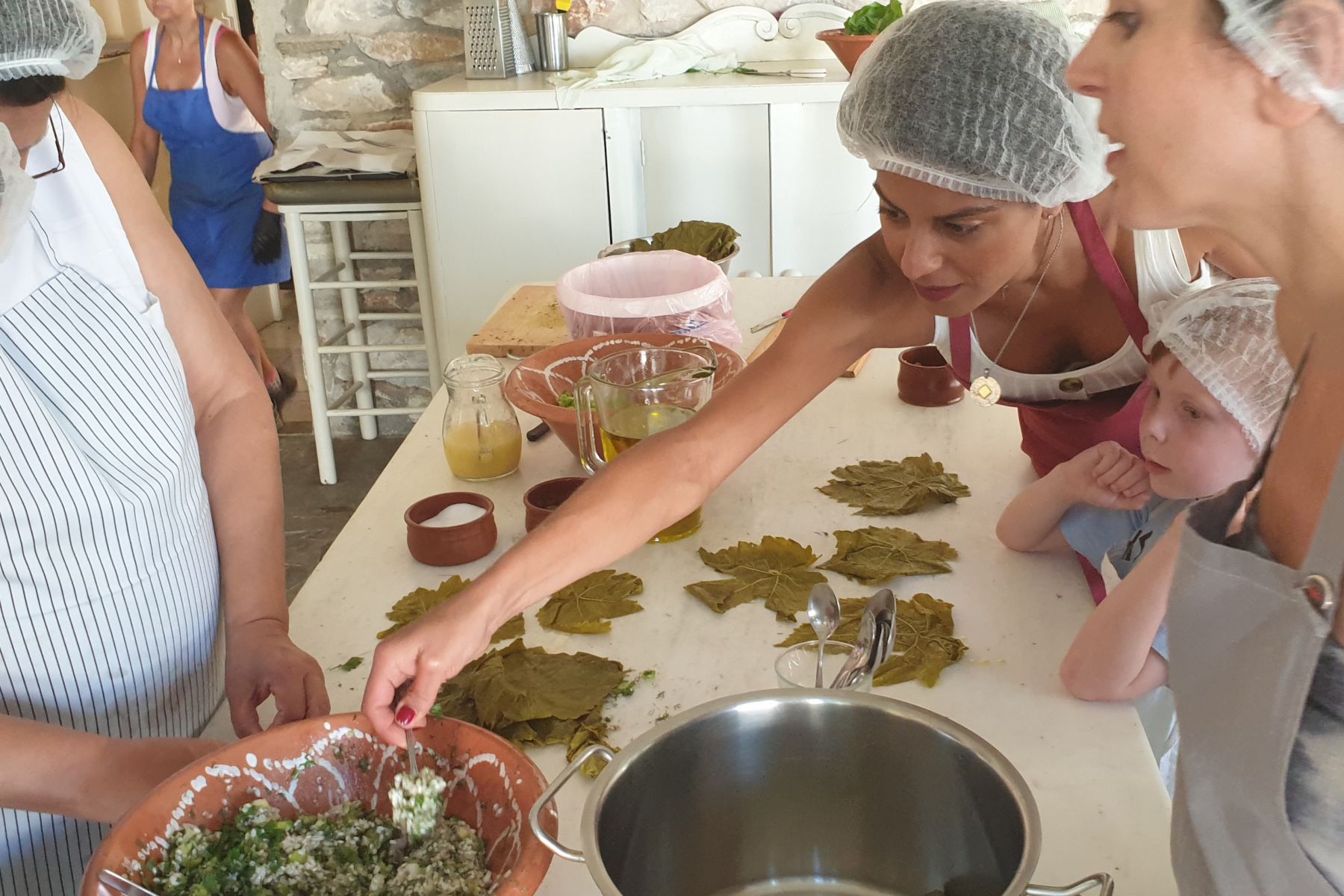 What you can expect?
Begin your journey into the culinary culture of Paros island and Greece by being picked up from your accommodation and transported to the scenic location of your cooking class. There, the local cook will welcome you with an aperitif.
She grew up in Paros with her mom having one of the first restaurants on the island. As a result, she has nurtured a deep passion for traditional cooking from a very young age.
After the aperitif, your cook will take it upon herself to share with you her grandmother's amazing traditional recipes and guide you through the art of Greek cooking to prepare them. You will cook a 6-course meal including a starter, 3 main dishes -one of them vegetarian, one with seafood, and one with meat- and dessert.
Following your 5-hour cooking class, it is time to reward yourself with your tasteful creations in a proper Greek feast that will show you the most fun side of the local culture. Your food will be accompanied by wine or ouzo and fresh fruits from the garden!
Your cooking experience will come to an end with a gift for you to take back home: the knowledge of how to cook your favorite traditional Greek dish. After your time with us, you'll never see cooking as a chore ever again!
BOOK NOW
Inclusions
6-course menu, either for lunch or for dinner
Wine, water, soft drinks, and ouzo/souma
Transfers to and from the location of the cooking class
All taxes and VAT
Additional Information
Please let us know in advance if any participants have any food allergies or dislikes. Also, we can create a vegetarian, vegan, or gluten-free menu.
SEND INQUIRY
BOOK NOW
If you like Greek food you will LOVE this! It was amazing! the cook was so sweet and knowledgeable and the dishes were all delicious! My kids and I loved it and would definitely do it again! 5/5
BibiSah