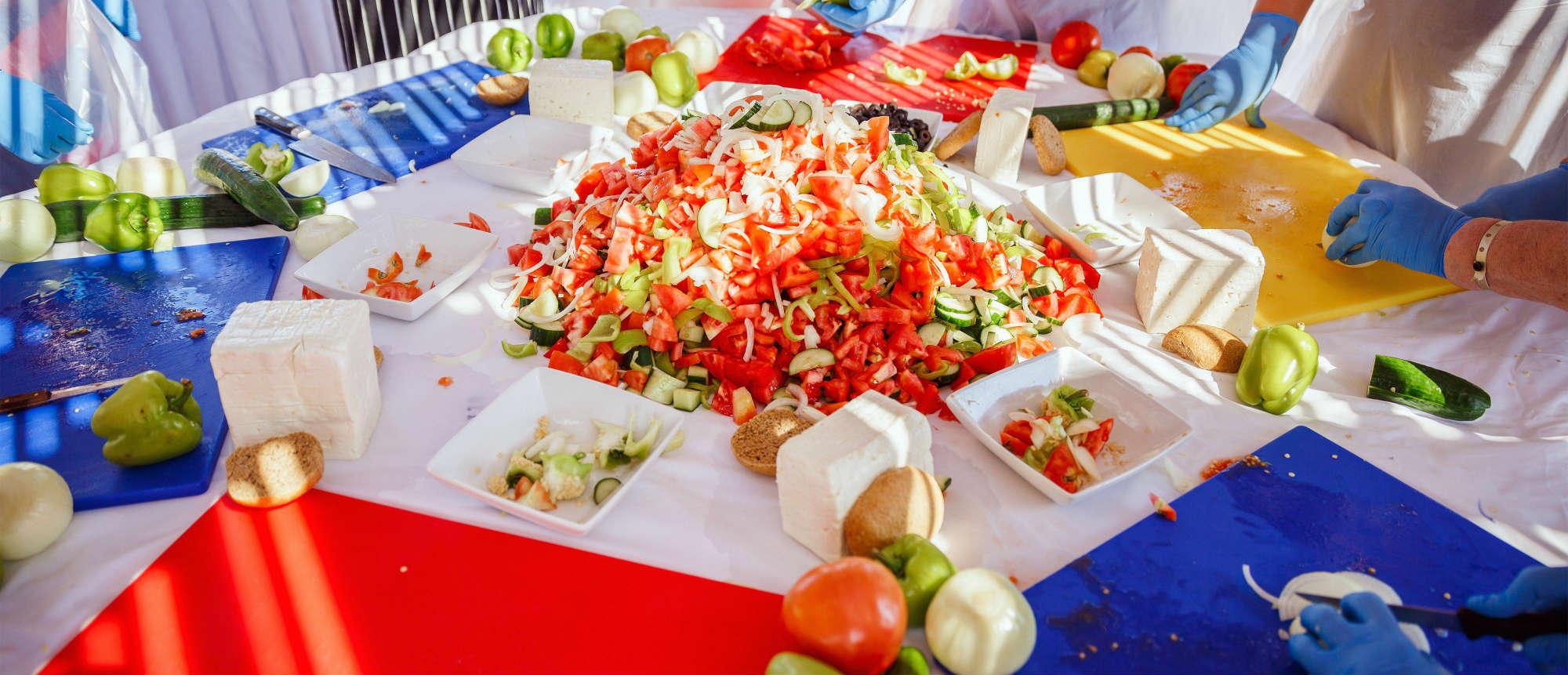 Santorini Private Cooking Class and Wine Tasting
Explore Santorini's unique cooking tradition and viticulture. Open your senses to unique, mouthwatering flavors reminiscent of a Cycladic summer, as you taste the top-quality products of the volcanic Therian land.
Schedule
Daily except Sunday (May to October)
Overview
Join us for a cooking class with wine-tasting in Santorini and explore the most romantic island in the world through its gastronomic wealth. Visit famous Santorini wineries, feel the unique flavors of local wine varieties and finish your adventure with a festive cooking class that will give you insight into the culinary tradition of Santorini and teach you tips and tricks to incorporate Greek cooking into your life!

Take part in a hands-on Greek cooking class and prepare famous Santorinian dishes

Visit two exceptional wineries and check out the distinctive techniques of Santorinian winemaking

Taste up to eight wines made of local vine varieties, such as 'Vinsanto' and 'Assyrtiko'

Enjoy a traditional Greek lunch in a convivial atmosphere
What you can expect?
Enjoy the riches of the island with a unique gastronomical experience!
Your day kicks off with a magnificent landscape of a charming vineyard. Explore the local vine varieties and find out about old traditional techniques Santorinians have used for winemaking through the centuries. Continue with a visit to two exceptional Santorini wineries and your sense of taste will travel through distinctive local wines, such as 'Assyrtiko' and 'Vinsanto'.
Next up, make your way towards a traditional restaurant, where your cooking experience will commence. An expert local chef will show you through the whole cooking process of 3 traditional Santorinian recipes that have been passed down through generations. Finish up your culinary experience with a rewarding lunch of the dishes you have prepared and unwind with a mouth full of Greek flavors in a convivial atmosphere.
The ultimate food and wine experience of Santorini awaits you!
BOOK NOW
Inclusions
Private visit to two Santorini wineries and wine-tasting of up to 8 different local wines
Hotel pick-up and drop-off
Transport with modern, luxury vehicles
Wine tasting and winery tour
An expert chef's services and a hands-on cooking class of 3 traditional recipes
Lunch with wine or other beverages
All taxes & VAT
Exclusions
Extra drinks or personal purchases
Gratuities
SEND INQUIRY
BOOK NOW
Our guide picked us up near our hotel exactly at the arranged hour and took us on a tour of some of the Santorini wineries displaying his encyclopedic knowledge of the wine world at every turn. The cooking class itself was AMAZING and we brought home new recipes that will become part of our mealtime repertoire. The group itself was six in number, a very small group experience. Totally worth the price of admission.
Pego69
The tour was very interesting - very nice that the guide did not push wine purchases, but was very knowledgeable and helpful when requested. I would recommend the cooking class as well as it's interesting to see what goes into the wonderful food you've been eating. It was a full course meal, so no dinner needed or wanted that night!
MartinS