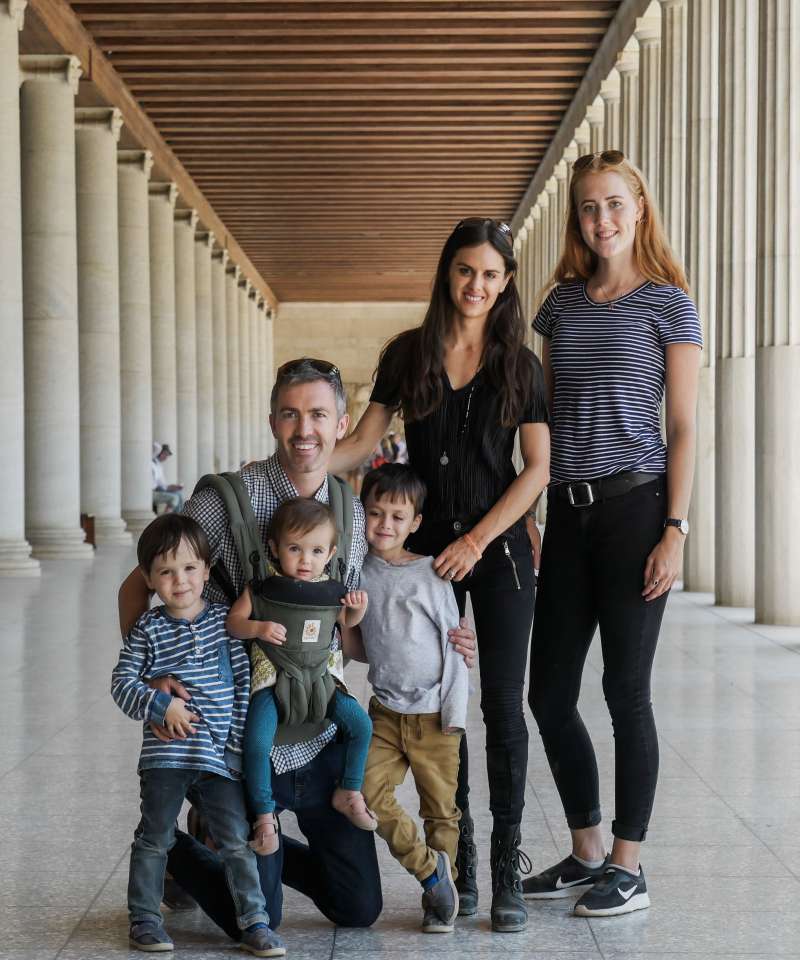 14-Day Family Trip to Athens, Peloponnese, Tinos and Naxos
Make your dream family vacations come true by joining our 14-Day Family Trip to Athens, Peloponnese, Tinos and Naxos. From the impressive mainland to the picturesque Greek islands that will steal your heart, your stay will be enhanced by a series of activities specifically designed for you and your little ones
From
3790
/person
including hotels
Overview
Accommodation
Inclusions
Photos
Our way to travel
Reviews
Overview
Learn about the myths behind the most significant archaeological sites of Greece, walk around the country's most magnificent regions, sail across the Aegean Sea, and taste local products famous for their high quality and nutritional benefits. Both you and your kids will fall in love with the country where the sun shines bright most days of the year! This is a flexible family itinerary, carefully created by our team of travel specialists.
Days 1-3
Athens
You've finally reached the destination of your dreams! As soon as you touch down in Athens, you'll be welcomed by your private driver who will take you and your family to your accommodation to rest and recuperate. On your first evening in the Greek capital, you will have the chance to savor a welcome dinner full of traditional Greek flavors and local delicacies that will have your kids licking your fingers. Following your Greek feast, you'll be taken to your hotel for a good night's rest.

The next day will introduce you to the vast history and heritage of the region with our family mythology tour of the Acropolis & Acropolis Museum lead by a friendly archaeologist who will keep your kids entertained with tales of the historic past. Learn the history behind not only each and every one of the Acropolis' monuments, but also the exhibits the excavations brought to light and are now housed at the Acropolis Museum.

On the 3rd day of the trip, you'll enjoy a free morning before embarking on a 5-hour afternoon excursion to Sounio and the Temple of Poseidon that includes swimming! Admire the striking Athenian Riviera before heading to Cape Sounio in order to marvel at the ruins of the Temple of Poseidon, and catch a magical sunset that will leave you and your loved ones in awe.
READ MORE
Days 4-6
Peloponnese
On day 4, you'll depart from Athens and be transported to Nafplio, arguably the most romantic city of Greece and the gem of the Peloponnese region. After arriving in this magical city, you'll set on an Epidaurus and Nafplio guided tour that will include a stop at the fascinating Komboloi Museum! Get introduced to the scenic streets of the region and let your expert guide narrate enchanting stories about the history of the first capital of the modern Greek in a fun way that will have your kids asking for more.

The next day will be free for you to spend as you please. Optionally, you can go for a cycling tour with picnic, where you will cycle around the scenic city and enjoy an idyllic picnic while admiring the landscape around you; an activity for the whole family that will become one of the highlights of your Greek vacations.
On your final day in the Peloponnese, you will embark on an Olympia full-day trip from Nafplio, where you and your kids will be introduced to the birthplace of the Olympic Games by a fun, expert guide. Let your kids try to mimic the sports the first Olympic Games consisted of and take in the mystical ambiance of the region. Alternatively, you can opt for a Mycenae half-day trip and get to stroll around the ancient fortified citadel of Mycenae in the company of your knowledgable guide that will keep the tour interactive and entertaining.
READ MORE
Days 7-9
Tinos
On the 7th day of your trip, you'll depart from Nafplio and will be transferred to the port of Rafina to catch a ferry to the beautiful island of Tinos. After an approximately 2-hour journey, you'll reach Tinos and enjoy the rest of your day free to cross off your bucket list your must-visit destinations. If you feel like it, you can also opt for a walking tour in the Old Town to get introduced to the streets and everyday life of the locals in the picturesque old town of Tinos. Stroll the cobbled alleys and let your kids admire the trademark whitewashed houses the Cycladic islands are famous for.

On day 8, it is time for you and your family to enjoy a 6.5-hour private tour of Tinos island, where an expert, family-friendly guide will show you around the best of what the island has to offer. Alternatively, you can embark on a Tinos sea tour, sail across the Aegean Sea, and dive along with your kids into crystal-clear waters of unmatched beauty.
Your last day on the island will be free for you to relax and spend some valuable quality time with your loved ones.
READ MORE
Days 10-14
Naxos
On the 10th day of your trip, you'll be driven to Tinos' port to catch the ferry to Naxos, one of the most family-friendly islands in Greece, where you'll spend the rest of your day with your family in whichever way you want to.
The following day, you and your family will have the opportunity to luxuriate in a Naxos semi-private Sailing Trip to Small Cyclades, an adventure you and your kids will remember for the rest of your lives! Swim in the deep blue waters of the Aegean you wouldn't otherwise get to experience and explore the coasts of Koufonissi, Iraklia, and Schoinoussa.

On the 12th day of your trip, you'll enjoy another free day that will help you rest and maybe enjoy a family adventure of your choice. A Naxos Organic Cooking Class for example, would be the ideal way to get introduced to Greek cuisine with the help of a professional cook and engage your children on a hands-on experience that will come to an end with a luscious feast that will feature your and your kids' gastronomic creations!

On day 13 of your family adventure, you'll experience our amazing Naxos highlights tour with olive oil tasting. You will admire the most significant attractions of Naxos and taste local olive oil, the product the Greeks call 'liquid gold' due to its high nutritional value. This all-encompassing tour will be the perfect farewell to Naxos, as the next day you'll be taken to the island's airport in order to catch the 45-minute flight back to Athens. This multi-day family trip full of fun adventures and fascinating experiences will be unforgettable, giving you a ton of stories to narrate to your friends and family back home!
READ MORE
Picture yourself
Embarking on guided tours in important archaeological sites, such as the Acropolis and Olympia
Having family-friendly guides keep your kids engaged throughout the multi-day trip
Enjoying an Epidaurus and Nafplio guided tour that will give you the opportunity to get introduced to the best of the Greek mainland
Swimming along with your kids in the Aegean waters on a Tinos sea tour, and a Naxos sailing rip to the Small Cyclades
Our preferred hotels
These are our top accommodation options for this trip. Please keep in mind that the accommodation cost is not included in this trip's price. We only feature particular hand-picked hotels, which our team has carefully inspected. These hotels have received great feedback from our previous guests.
Starting from EUR 3,790 per person including accommodation, private tours and transfers
Inclusions
Boutique accommodation

All private transfers with luxury vehicles including Athens airport pickup upon your arrival & Naxos airport departure transfer

Skip the line entrance fees

Welcome dinner

All tours as mentioned at the itinerary
Sea transfers from Rafina to Tinos and from Tinos to Naxos
Naxos Semi-private Sailing Trip to Small Cyclades
Naxos Highlights with Olive Oil Tasting Activity
Exclusions
Meals unless mentioned in the itinerary
International & domestic flights unless specified, personal travel insurance
Our way to travel
We believe in a certain way of traveling. And this does not include big bus tour groups, nor large chain hotels or just crossing destinations off your list.
Our philosophy is that, in order to really experience a life-changing journey, you should:
immerse yourself in the culture and the landscape of your destination
take a moment to appreciate your surroundings and not hop from one destination to another
exploit your limited time with the help of a knowledgeable guide who will open your eyes about what you see and give you a real perspective of living in this country
trust an experienced, local travel specialist with whom you will design a trip tailored to your needs, avoiding endless research and first-timer mistakes
And this is what we strive to do. Either you join one of our small-group tours or design a private trip just for you, we are here to help you experience Greece in a meaningful, authentic way.
I can't praise this trip enough. My wife and I loved every single day and as for the kids? they were crying when the time came to leave. Well done Greeking! You'll see us back again soon!