Our Tailor-Made
Trip Planning
01
Hop on a quick call with a local expert from our team
02
Receive a tailor-made itinerary for your journey
03
Fine-tune the details and you're ready to go
Key Takeaways
Greece experiences hot and sunny weather during the summer months, which becomes scorching hot during midday.
Summer is the peak tourist season in Greece, so popular destinations can get crowded with both international and local tourists.
Greece comes alive with festivals and events during the summer. The Athens & Epidaurus Festival is a renowned cultural event featuring theater, music, and dance performances.
Greece's coastline is famous for its beautiful beaches. Whether you're seeking sandy stretches or hidden coves, there are options for every preference.
---
Greek islands in the summer - credits: Shutterstock.com
One of the most common questions among travelers is, 'When is the best time to visit Greece?' Although Greece has its charms year-round (yes, there are plenty of reasons to visit Greece even in the winter), and locals have reasons for preferring one month or two over the others, almost everyone agrees that the summer months are when Greece truly shines and is on every traveler's bucket list.
Klima Bech, Milos - credits: Shutterstock.com
Since the summer is the most popular time to visit Greece, we have some valuable tips and advice from locals to ensure you have the best experience.
Their advice can help you get the most from the Greek summer endeavor so you return home with amazing memories, ready to book your next trip to this enchanting country.
Choosing the Best Time to Visit Greece
Mykonos Town - credits: Shutterstock.com
According to the calendar, summer is from late June to late September, but locals will tell you that summer in Greece starts much earlier. Greece has a very short spring season; the tourist season usually begins right after Easter, while the weather in Greece in June is perfect for summer vacations, even during the early days.
From then on, you can swim on the golden beaches of the Ionian and Aegean sea, sink your toes in the golden sand, and admire Santorini's famous sunset from a sailboat.
Visitors flock to Greece from May to September, but the best months to plan your trip are May, June, and September.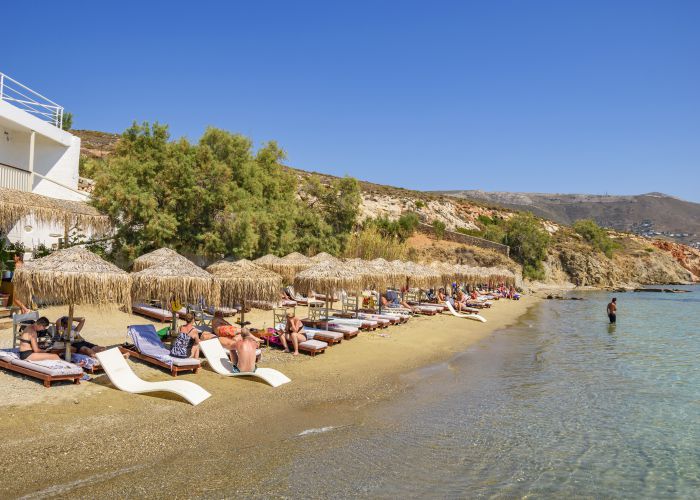 Marcello Beach, Paros - credits: Shutterstock.com
Visiting Greece at the beginning or end of summer offers several key advantages:
Smaller crowds, especially in the most popular destinations and tourist sites. Fewer crowds mean a more comfortable, laid-back, and authentic experience!
Less expensive flights and accommodations.
Cooler, more pleasant weather to explore the best beaches in Greece, ancient Greek ruins, and tasty food.
Easier to purchase tickets on ferries, make reservations at popular restaurants and visit major archaeological sites and museums, some of the best landmarks in Greece.
14-Day Family Trip to Athens, Peloponnese, Tinos and Naxos
BOOK NOW
This isn't to say you can't have an incredible visit to Greece during July and August.
Just know that if you do travel to the Mediterranean in the mid-summer months, you'll contend with hot weather and larger crowds; something that the sea breeze, the fresh fish, and the turquoise waters will make it worth it nonetheless.
You can read about the weather in Greece in July and the rest of the summer months on our blog, and decide for yourselves.
The Best Places to Visit in Greece in the Summer
Myrtos Beach, Kefalonia - credits: Shutterstock.com
There isn't a bad place to visit during summer in Greece, and many travelers plan multi-destination trips to experience the country's best, from big cities to Greece's fishing villages or southernmost islands.
Depending on how you vacation, there's a Greek destination sure to delight, inspire you, and offer you unforgettable memories. Consider one of these five popular options.
1. Athens
Athens, Acropolis ruins - credits: Shutterstock.com
Athens is an ideal place to visit during the height of the summer. Many locals take their vacations in August, and the high temperatures drive many tourists to the cooler coastal regions. This means the city is less busy and crowded than usual, so you won't face as many long lines to see the major attractions.
Many of Athens' museums are air-conditioned, so you can comfortably experience Greek art, history, and culture even when the outdoor temperatures soar. You can also explore Monastiraki's covered open-air markets and the quirky cafes and tavernas without the enormous crowds.
2. The Greek Islands
Serifos - credits: Shutterstock.com
With their beautiful beaches, clear blue water, and stunning sunsets, it's no wonder that locals and visitors alike head to the Greek Islands in the summer months. Coastal breezes keep you cool while you soak up the sun, but prepare to enjoy them with thousands of other visitors. Some Greek islands, notably the Cyclades islands like Mykonos and Santorini, are incredibly popular and crowded in the summer.
Bespoke Santorini: Private Customized Tour With Driver-Guide
BOOK NOW
That doesn't mean you can't enjoy a summer vacation to the Greek islands. Consider some of the less visited but still stunning destinations in the Dodecanese islands, home to the ancient city of Rhodes, or the lush Ionian islands.
3. Halkidiki
Halkidiki - credits: Shutterstock.com
A favorite among Greeks, the Halkidiki region comprises three peninsulas packed with luxurious beach resorts, quaint historic villages, and ancient archaeological sites. Foodies, in particular, will enjoy a visit to the city of Thessaloniki, Greece's 'second city.' Considered Greece's food capital, Thessaloniki is the place to find highly-rated restaurants.
4. The Peloponnese
Kyparissia, Peloponnese - credits: Shutterstock.com
Scenic, rugged, and historical, the Peloponnese region is ideal for travelers who want to take a Greek road trip to explore ancient cities and quaint villages. The Peloponnese is also home to the area of Lakonia and its capital city, Sparta, as well as several settlements dating back to the Byzantine Empire.
5. Epirus
Aoos River, Epirus - credits: Shutterstock.com
The western coastline of the Epirus region is another popular destination for domestic visitors; in fact, very few international tourists are familiar with this region affectionately known as the 'Epirus Riviera.'
The seaside town of Pargas is especially beautiful, with a Venetian castle overlooking beautiful beaches and crystal-clear water. Epirus is also where you'll find Syvota, a fjord with sandy beaches, blue water, and lush forests that appear transported straight from the Caribbean.
Festivals in the Summer Months
One of the best ways to experience Greek culture is to attend one of the festivals that fill the calendar during summer in Greece. Include one of these events in your itinerary for a memorable experience.
Epidaurus Ancient Theater - credits: Shutterstock.com
One of the oldest European arts festivals, this theatre, music, and dance celebration takes place between May and October in the ancient Epidaurus amphitheater in Athens. Known for its exceptional acoustics, the amphitheater alone is well worth a visit, but seeing a performance is a treat for visitors and locals alike.
Greek Folk Festivals
A Greek folk festival - credits: Shutterstock.com
Throughout the year, the Greek people honor the patron saints and religious events of their regions with panigiria or festivals. Make plans to attend one of these fairs, which include delicious food, dancing, music, shopping, and unique rituals. A panigiria is the ideal way to enjoy authentic Greek culture while having a great time.
The Ascension of the Virgin Mary
August 15 is one of the most important days on the Greek Orthodox calendar, as it's the day the Virgin Mary ascended to heaven.
You're likely to find a fair or festival honoring this day in nearly every city and town. The most famous takes place on the island of Ikaria, where the dancing lasts all night.
Get the Most from Your Greek Summer Vacation
Rafina, Marikes Beach - credits: Shutterstock.com
The sunshine, blue skies, and beautiful beaches of Greece enchant visitors, but they can also ruin your trip if you don't take precautions. The average temperature hovers above 80 degrees in most areas, and most days are sunny and bright.
You don't want to deal with heatstroke, sunburn, dehydration, or other health issues that keep you cooped up in your hotel room, so take the following precautions to ensure you fully enjoy your summer in Greece:
Rhodes - credits: Shutterstock.com
Stay hydrated: Drink plenty of water throughout the day.
Wear sun protection: In addition to using sunblock, wear sunglasses and a wide-brim hat when you go outdoors.
Avoid the midday sun: The sun is strongest in the late morning and early afternoon, so plan outdoor activities like hiking or exploring archaeological sites for early morning or late afternoon.
Wear light-colored clothing: Loose-fitting, lightweight clothing in light colors is most comfortable during a Greek summer and will prevent overheating.
Take breaks: With so much to do and see in Greece, it's easy to overexert yourself. Take your time to soak in the atmosphere and take frequent breaks. Enjoy a cool drink in a shaded cafe, and let the beauty and culture of Greece surround you.
Avoiding heat-related illness is just one part of making the most of your Greek summer trip. High-season crowds mean pre-planning is a must, especially when your itinerary includes popular destinations like Mykonos. Avoid disappointment and frustration during your visit to Greece with the following tips.
Book your ferry trips and accommodations in advance. In many coastal areas, ferry tickets sell out, and hotels and inns fill up well in advance, so you might not have a place to stay if you don't make reservations. Pre-booking tours and excursions can eliminate the stress of arranging activities and ensure you can see and do everything you want during your vacation.
Try different beaches. Greece is full of beautiful beaches, and each has its own vibe. While the beautiful beaches of Mykonos and Santorini attract visitors who want to soak up the sun, the windblown beaches of Rhodes are ideal for watersports like windsurfing. Explore different coastal areas to experience the diversity of Greek beaches.
Pace yourself. You could spend years in Greece and not experience everything it offers, so you should not expect to do everything in a week. Plan to explore two or three destinations at most to get the most from the summer weather experience. If you're having trouble deciding where to visit this summer in Greece, consider a package tour that includes several destinations and guided excursions to take the stress out of planning.
Experience the Greek lifestyle. Summer in Greece isn't about rushing from one destination to the next. Take time to soak up the atmosphere and relax with delicious Greek food, take a walking tour of local art, or experience a dance or cooking class to immerse yourself in Greek culture. Remember: you are on vacation, so take it easy and slow down.
Final Thoughts
Jumping off a cliff in the Greek sea - credits: Shutterstock.com
Visiting the Mediterranean is impressive at any time of year, but Greece in the summer is especially magical.
If you need help planning your next vacation, get in touch with the expert travel planners at Greeking.me for insider advice and a selection of travel packages and tours to ensure you have the most stress-free vacation possible.
There is not much to think about; a perfect summer in Greece is next on your 'to-do' list!
Our Tailor-Made
Trip Planning
01
Hop on a quick call with a local expert from our team
02
Receive a tailor-made itinerary for your journey
03
Fine-tune the details and you're ready to go
Frequently Asked Questions
Is Greece too hot in summer?
Is July a good time to visit Greece?
What is Greece like in the summer?
Is Greece better in July or August?