Our Tailor-Made
Trip Planning
01
Hop on a quick call with a local expert from our team
02
Receive a tailor-made itinerary for your journey
03
Fine-tune the details and you're ready to go
Is this your first time on Naxos, and you want to learn the best spots to relax by the seaside or have a swim? Here is a list of the best beaches of Naxos we've carefully selected for you!
Located at the center of the Aegean Sea, Naxos is the largest island of the Cyclades. Due to its size, it offers a great variety of landscapes for the traveler to explore, such as typical Cycladic sceneries with golden shorelines and white houses, castles, fortresses of the past, endless olive groves, or even snowy mountains!
Naxos, except for its vast history, and picturesque Naxos Town, is also known as an idyllic destination and for its family-friendly atmosphere.
From long-stretching sandy beaches to rocky secluded coves, Naxos offers numerous options for every type of traveler. Plan ahead and visit the ones that suit you best!
Plaka
Plaka Beach - credits: www.mygreekheart.com
Some 9km away from Naxos Town, Plaka beach is one of the most popular Naxos beaches. Stretching for more than 4km, this calm sandy beach with its sand dunes and crystal-clear turquoise waters is an ideal solution for an easy-access, family-friendly excursion. Due to its length, Plaka is available for nudists as well, especially in its southern part.
Even though parts of the beach are organized with water sports facilities, umbrellas, and sunbeds, you can always find a quiet spot to lay your beach towel and enjoy the scenery. The best way to end your experience there is to try the local delicacies in one of the traditional restaurants nearby!
Plaka is accessible by car, and especially during summer, there are frequent bus routes for you to get there. Undoubtedly, Plaka beach is one of the best Naxos beaches.
Kastraki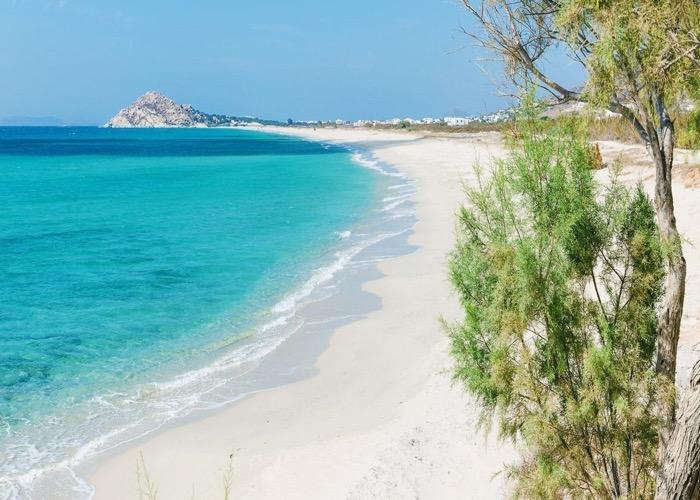 Kastraki beach - credits: naxos.net
Just a 20 min car ride away from Naxos Town, Kastraki beach lies on the eastern part of the island and consists of numerous small bays for you to choose from.
This white sandy beach is easy to access by car, however, if you want to access it by public transport, make sure to always consult the local bus timetables since it is not one of the popular options, and times may vary.
The beach is not organized with umbrellas and sunbeds to rent; therefore, it preserves its original bohemian character, ideal for everyone who seeks moments of seclusion and tranquility. Small restaurants and canteens nearby offer you the chance to get your refreshments and snacks while lying on the beach.
Alyko
Hawai beach in Alyko, Naxos - credits: travelithenature.blogspot.com.blogspot.com
The area of Alyko, which translates to 'saltpans,' is located just after Kastraki, heading south. This peninsula, protected as a natural habitat (Natura 2000), offers one of the most iconic sceneries on the island.
Walking through a cedar forest, you will reach Kedros beach, where you can rest under the shade of the cedar trees and cool yourselves down in crystal-clear waters.
Hawaii beach offers a different landscape with reddish rocky formations, accessible through a 10m drop down to the beach.
Naxos Private Highlights Tour with Tastings
BOOK NOW
Alyko beach, the most accessible one and, therefore, the most popular of Naxos beaches, is the option for those who prefer a calm sea with a cooling breeze.
Since it's a protected area, the beaches remain pristine, so remember to bring your towel with you! Alyko is accessible by car and by the local buses, especially during summer.
Azalas
Azalas, Naxos - credits: naxos.net
Azalas beach lies in the northern part of Naxos, and it is ideal for adventurous visitors and nature enthusiasts. Located about 500m away from the nearby beach of Moutsouna, it is accessible by car and motorbike or even on foot!
If you manage to get there, you'll find yourselves on a wonderful pebbly beach protected by tall rock formations. Gaze at Makares islands or Donousa while swimming in the crystal blue waters of northern Naxos beaches!
Since access is not easy, prepare yourselves appropriately before you leave Moutsouna, and don't forget to check the timetables for the local bus routes.
Orkos beach
Orkos beach, Naxos - credits: truenaxos.com
Orkos beach can be found between Plaka and Mikri Vigla. Just 10 km away from Naxos Town, Orkos is one of the most beautiful beaches the island can offer.
Easily accessible by car, you can choose out of three independent beaches, divided by rock formations.
These small coves offer a great opportunity to those that seek a secluded beach right next to the long beaches of the southwest part of the island. Due to its location, Orkos is preferred by windsurfers as well, away from the bathers of Plaka and Mikri Vigla.
Since there are not any beach facilities nearby, make sure to prepare yourselves in advance before getting there and bring the necessities with you.
Ayios Prokopios beach
Ayios Prokopios beach, Naxos - credits: naxos.net

For those who want to party, play water sports, enjoy cocktails and cool refreshments on the sand, or just relax on a beachfront sunbed, Ayios Prokopios is the place to be! This 5.7 km long beach, with white sand and deep blue water, is an option for every age and taste.
Naxos Castle & Portara Sunset Walking Tour
BOOK NOW
Spend your day on Ayios Prokopios, one of the most beautiful beaches in Naxos, and try local delicacies at the traditional restaurants around the coastline, but save some time in the evening to experience the nightlife the beach has to offer.
Just 15 min away from Naxos Town, access to the beach is super easy, especially during the summer months, even by public transportation.
FAQs
Is Naxos a party island?
Naxos doesn't have the reputation of being a party island. On the contrary, it is an island that is preferred by families with children due to its quiet nature, luscious landscape, and calm beaches.
Regardless, that doesn't mean that Naxos island boasts no nightlife. In fact, Naxo's nightlife is exciting and diverse, concentrated mainly in Naxos Town, and giving its visitors the opportunity to have the time of their lives! If you're not sure yet, here is what to do in Naxos at night to upgrade your Greek island holidays to a whole different level.
Does Naxos have sandy beaches?
The answer to this question is a strong and easy 'yes.' Naxos' sandy beaches are one of the reasons why the island is so popular among families and is described as 'kid-friendly in every piece of article you can find.
Final Thoughts
Naxos' beaches are truly a sight to behold, and when given a chance, you should try to visit as many of them as you can. If you're not sure which ones to choose, here are the top beaches on Naxos island.
Naxos, the largest island of the Cyclades, has many beautiful options to offer for every taste, from small tranquil secluded beaches to wide and long sandy ones buzzing with energy and life! Don't miss the chance to visit one of those while being on the island, and check out one of our Greece tours!
Our Tailor-Made
Trip Planning
01
Hop on a quick call with a local expert from our team
02
Receive a tailor-made itinerary for your journey
03
Fine-tune the details and you're ready to go