Our Tailor-Made
Trip Planning
01
Hop on a quick call with a local expert from our team
02
Receive a tailor-made itinerary for your journey
03
Fine-tune the details and you're ready to go
Key Takeaways
Greek islands offer a safe and ideal destination for summer vacations, with a wide range of options to suit different preferences and travel goals.
The Greek islands are diverse, with over 6,000 islands and islets to choose from, each offering unique experiences and attractions.
Popular Greek islands like Santorini, Mykonos, Corfu, Zakynthos, and Crete offer a mix of stunning landscapes, vibrant nightlife, and rich cultural heritage.
Depending on your preferences, you can choose Greek islands based on factors such as proximity to Athens, party scene, culinary experiences, historical sites, tranquility, architecture, outdoor sports, or beach options.
---
We are officially in the heart of summer, but some are still looking for a place to go on vacation this year, you know, in this post-lockdown era when everyone is trying to recover from the first half of 2020 that took the whole world by storm.
Thankfully, all the Greek islands are one of the safest destinations in the world right now, something that is ideal for those hot summer days you've pictured yourself spending with a refreshing drink in your hand, sunbathing by the beach.
However, with about 6,000 islands and islets scattered across the Aegean and Ionian seas, of which 227 are inhabited, deciding the best Greek islands to visit is more difficult than one would expect. Not all people are looking for the same things when traveling to the Greek islands, and matters of preference are always subjective.
Regardless, here I will put together a guide on how to decide on the best Greek islands to visit so you have a point of reference when trying to book those dream Greek island vacations you so desperately need and want.
It is no surprise that Greece counts around 30 million international visitors annually, most of whom choose the magnificent Greek islands for their holidays. As you probably already know, the most popular Greek islands include Santorini, Mykonos, Corfu, Zakynthos –or Zante- and Crete.
Those islands are so popular, in fact, that they have their own international airports to which visitors from around the world can fly directly, an advantage that makes the lives of travelers so much easier!
12-Day Athens, Pelion, Skopelos & Skiathos Getaway
BOOK NOW
However, even if you'd like to visit a less popular and offbeat Greek destination, you can do so by hopping on a Greek ferry that will take you to your desired island in just a few hours from the ports of Attica.
Especially if it's your first time in our country, traveling by ferry will offer you the opportunity to marvel at wondrous sea views you'll never experience anywhere else in the whole wide world, while you'll even get the chance to see some of the most popular ports during various island stops.
One thing you should keep in mind before choosing the best Greek islands to visit is that you should make a point to book your flights and ferry tickets as early as possible because, especially during the high-season months, availability can become an issue.
But where should you go? Here's a list of the Greek islands you should visit, divided geographically, depending on your taste and the type of vacation you want to experience.
The beautiful Greek island complexes
If time matters, choose the Saronic Islands
Hydra, one of the best Greek islands to visit - credits: S-F/Shutterstock.com
If the clock is ticking and the days you have to spend in Greece are limited, choosing an island near Athens is the wisest choice you can make. That's when the Saronic islands come out to play. Famous for being within an hour –or a couple- from the port of Piraeus, Aegina, Poros, Hydra, and Spetses are beautiful and convenient; a winning combo if I've ever seen one!
And if that wasn't enough, the islands of Hydra and Spetses are extremely picturesque, with cobbled alleys and old stone houses dominating the setting, and don't require a car; you can go everywhere on foot or by taking a local taxi!
Of course, the rest of the islands are not inferior in any way. Aegina is a personal favorite, with its authentic Greek island ambiance fooling everyone into thinking they're way more than an hour away from the Greek capital.
Additionally, tiny Agkistri offers a lusciously vegetated landscape and an incredibly long beach, while Poros is known for its magnificent lemon forest that blooms during spring and smells incredible.
If partying is all that's on your mind, choose the Cyclades
Mykonos Island, the best Greek islands to visit - credits: javarman/Depositphotos.com
If you want to experience the famous Greek island nightlife while also having your eyes feast upon the trademark whitewashed houses with deep blue elements you've seen on postcards around the world, then the Cyclades islands are for you!
The islands of Mykonos and Ios, in particular, offer the wildest partying scene, with countless beach bars and nightclubs carrying long parties that most often last until 9-10 am!
A little tamer but just as vibrant is Paros, with its cobbled streets, local boutiques, and delicious restaurants making the island a top destination for tourists for all the right reasons. Of course, one cannot talk about the Cyclades and leave out the one and only Santorini.
The most luxurious destination in Greece, along with Mykonos, Santorini stands out due to its unique geography and the active volcano that attracts curious crowds worldwide.
If you want to experience the best of Greece's cuisine, choose Crete
Crete, one of the best Greek islands to visit - credits: Neirfys/Depositphotos.com
Deserving a whole section on its own, no one can deny that Crete is, in fact, superior to any Greek island in regard to its local cuisine. Of course, that doesn't mean that the island lacks amazing landscapes and stunning beaches.
On the contrary, the beach of Falassarna is hands down my favorite beach in all of Greece.
What's more, Crete is one of the most historically rich regions of our country, and therefore its archaeological sites are the perfect attraction to all history lovers out there.
All in all, the birthplace of Zeus, which also happens to be the largest Greek island, is a people pleaser; visit it, and you'll never look back!
If you're an architecture fanatic, choose the Ionian Islands
Kefalonia Island, the best Greek islands to visit - credits: Andrew Mayovskyy/Shutterstock.com
After serving the foodies and history buffs of you lot, it's time to cater to the lovers of architecture. The beautiful Ionian Island group consists of Zakynthos, Ithaca, Corfu, Kefalonia, Lefkada, Paxoi, Kythira, Antikythera, Antipaxoi, Erikousa, Mathraki, Othoni, Meganisi, and Strofades.
Clearly influenced by the Venetians, French, and British conquerors that have passed by its grounds, Corfu is a true architectural masterpiece combining the best elements of all past civilizations it has hosted.
Its unmatched aesthetic is also evident in its town, which is painted in warm sunset colors and exudes an old-time charm and a nostalgic vibe you cannot shake off.
My all-time favorite island, though, is the magical island of Kefalonia, which combines luscious mountainous regions with incredible beaches, crystal-clear waters, and traditional Greek island elements that make it endearing to anyone who visits.
The scenic village of Assos and the beautiful wild beach of Myrtos are, in my opinion, two of the island's highlights you should certainly visit if given a chance.
If you're all about long, sandy beaches, choose the Dodecanese Islands
Symi Island, the best Greek islands to visit - credits: Lubos K/Shutterstock.com
The least-known complex of islands in Greece happens to be one of the most beautiful ones, with its islands retaining an authentic Greek island character that is increasingly more difficult to come across in recent years.
The Dodecanese islands consist of Kos, Patmos, Agathonisi, Astypalaia, Chalki, Kalymnos, Karpathos, Kasos, Leipsoi, Leros, Nisyros, Symi, Tilos, Kastellorizo, Alimia, Arkoi, Chalki, Farmakonisi, Gyali, Kinaros, Levitha, Marathos, Nimos, Pserimos, Saria, Strongyli, Syrna, and Telendos, of which the first two are the most popular.
Legend has it that Hippocrates himself, born on the island of Kos, used to take advantage of the healing properties of the thermal baths at Agios Fokas beach.
The ultimate destination for experiencing an alternative side of the Greek islands, the Dodecanese are known for their long, sandy, and particularly quiet beaches that make everyone's troubles magically disappear and hide some of the most authentic and unknown Greek islands.
If peace and tranquillity are what you crave from your vacations, look no further!
Argosaronic Escapade: 12-Day Trip to Athens, Peloponnese, Spetses & Aegina
BOOK NOW
What is the right Greek island for you?
For Millennials
Beach bar, the best Greek islands to visit - credits: DisobeyArt/Shutterstock.com
Greece's nightlife is famous, and its epicenter during summertime is the Greek islands. Zakynthos is the preferred destination in the Ionian Sea if you want to experience memorable party nights.
In this beautiful isle, you can find everything you need to have a great time and dance yourself into the next morning, from jazz and blues bars to packed, loud clubs that play mainstream hits.
The Cyclades, which is a group of islands in the middle of the Aegean Sea, is full of beautiful destinations like Naxos, Koufonisia, Ios, Sifnos, Amorgos, and Paros.
Despite the islands' varying sizes, they are all quite developed, as they host thousands of young tourists every summer. The unlimited amount of bars, clubs, cafes, and gorgeous beaches offer a lot of choices for an unforgettable, fun night out.
Naxos Private Highlights Tour with Tastings
BOOK NOW
Last but not least, we can't make a list of cosmopolitan islands ideal for Millenials without mentioning the famous island of Mykonos, the best Greek island to experience luxury and partying.
A part of the Cyclades, Mykonos is arguably among the most famous Greek islands, gathering n ever-expanding crowd of millennials seeking to live like tomorrow doesn't every summer.
Mykonos has an abundance of loud beach bars, clubs, and live stages that host incredible parties with artists from all over the world. Dancing, partying, and drinking never seemed more inviting!
For retirees
Ikaria island, the best Greek islands to visit - credits: NDT/Shutterstock.com
Greece s a dream destination also for people who just want to unwind and spend their time in a calm, aesthetically pleasing setting with a tranquil ambiance and magical landscapes. Ithaca is an appealing destination for relaxing and giving yourself a break from reality.
Both young and older people from all over the world visit the thermal baths of Ithaca that can allegedly cure arthritis, skin, and neurological diseases. Those who visit the island are sure to understand why Odysseus tried so hard to return to it!
The North Aegean, and specifically the alternative island of Ikaria, is a great choice for those who prefer spending their days on the beach and spending their nights dancing in traditional 'panigiria' and not in common bars and clubs.
The islands where time stops if you find yourself in Ikaria, forget your big city ways and embrace the nonchalant attitude and easy-going vibe of the locals. The Dodecanese is another group of islands in the Aegean Sea, where you can get a taste of the island life in places such as Symi, a mountainous, gorgeous island.
What's more, Astipalaia is a small island between the Cyclades and the Dodecanese and is home to 300 people; when visiting it, you feel like it is your own private island paradise!
Despite the majority of islands of the Cyclades being cosmopolitan, some of them -which are less known- are rather quiet and peaceful. Those are Kythnos, Anafi, and Donousa, and they are all worth visiting due to their astonishing beauty and the calm sensation they provoke.
For history buffs
Knossos Palace in the city of Heraklion, the best Greek islands to visit - credits: KevTate999/Depositphotos.com
Everyone and their dog knows that Greece has a rich heritage and is a country full of important Greek ruins and museums. If you want to spend your summer swimming and sunbathing but you'd also like to learn about the history of ancient civilizations, the Greek islands are right up your street!
A Frankish or Venetian castle can be found in Zakynthos and Corfu in the Ionian Sea and Paros and Rhodes in the Aegean. Most of these places retain the style and architecture of their old town, so strolling along the cities will be fascinating. But the opportunities to admire the remnants of older civilizations don't end within the cities' limits.
Corfu in a day: Achillion Palace, Paleokastritsa & Old Town
BOOK NOW
Additionally, destinations such as Kithyra and Santorini are full of excavations that reveal their vast history. Ancient sites blend perfectly with newer temples, buildings, and castles to create a dazzling spectacle.
Crete is also a huge island with an even longer history. A few kilometers outside the city of Heraklion, you will find Knossos, the oldest European city. Palaces, paintings on the walls, and incredible constructions create a landscape like no other.
For business travelers
Kea, one the best Greek islands to visit - credits: Milan Gonda/Shutterstock.com
The plethora of Greek islands allows business travelers the opportunity to make quick trips and enjoy the beautiful sea while also working and being close to airports and big cities.
Places like Aegina, Hydra, Spetses, Poros, and Kea offer all luxuries that any bigger island would have, while, at the same time, they are easy to access and within close proximity to the Greek capital.
Kefalonia, Corfu, Rhodes, and Lesvos are much bigger Greek islands with international airports and a more cosmopolitan vibe for those who prefer working but also combining work with exciting and eventful vacations.
For experience seekers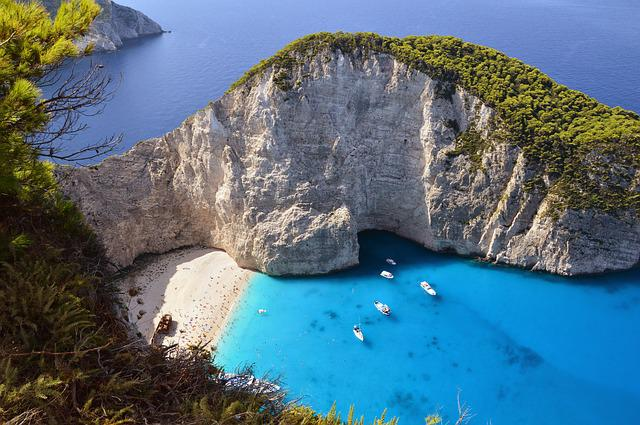 Shipwreck Beach (or Navagio Beach) in Zakynthos, Greek islands - credits: pixabay.com
Visiting Greece is a huge experience on its own. For those who seek more than mind-blowing views and fun nights, Greece has to offer adrenaline boosts in the form of extreme sports. Even on small Greek islands like Anafi and Milos, tourists can go hiking and trek on the mountains admiring the sunset above the blue Greek sea. \
The best view has to be the one in Lefkada while paragliding above that gorgeous island of the Ionian Sea. On the horizon, you'll be able to see Zakynthos, where people often indulge in base jumping.
In Santorini, tourists dive into the underwater parts of the isle, where they visit dark caves and colorful riffs. Rock climbers travel to the quaint island of Kalymnos every year to explore its land. Windsurfing in Paros is the greatest way to exploit the windy weather of the Greek islands.
Top Island Suggestions
If you want me to be even more specific, here are my suggestions for the best Greek islands to visit, including some that are not the ones you usually hear about.
Please keep in mind that the following Greek islands are just indicative examples, so make sure not to restrict yourself to just those destinations but rather explore your options before making an educated decision.
Santorini
Santorini - credtis: Georgios Tsichlis/Shutterstock.com
Oh, the volcanic island of Santorini! The picturesque island is the most popular Greek island destination and is famous for a multitude of reasons. On it, the visitor can see the whitewash-styled houses that linger on the hillside, enjoy a therapeutic soak in hot springs, and admire breathtaking views of the famous Caldera and the imposing volcano.
A fertile island was created from volcanic rocks from huge, mostly-submerged underwater volcanoes called calderas. The last major eruption occurred in 1950, and the volcano is considered inactive but has created a dynamic landscape. It offers many things to see, and tourists are given an array of choices in regard to sights and entertainment.
Ios
Ios - credits: Aerial-motion/Shutterstock.com
A top destination for Greek partying is a great choice among young tourists with a less than high-end budget. The party island of Ios offers great fun and picturesque beachside party locations at a low price compared to other Greek islands like Mykonos and Santorini.
Ios' Chora has several bars catering to all tastes that stay open until the very early hours, which ensures a great deal of fun. What's more, various beach bars, including the Beach Club, offer pool parties and DJ sessions during the afternoon as well.
Sifnos
Sifnos - credits: Pinkcandy/Shutterstock.com
The Greek island of Sifnos is attributed primarily to its renowned descendant Nicholas Tselementes, the founder of the Greek cookbook of 1909. Several potteries manufacture earthenware casseroles in Sifnos for local dishes, such as revitháda (chickpea soup) and massello.
What's more, on the island, you will find many more traditional dishes that are typically cooked slowly in wood-burning ovens. During your time there, be sure to buy Atsonos Pottery antiques that date back to 1870.
Kos
Kos - credits: Mindaugas_A/Shutterstock.com
Kos is one of the best Greek islands to visit in the Dodecanese due to its astonishing beauty. Kos's beautiful beaches, vibrant nightlife, and fantastic historical sights make Kos an ideal choice for those looking for some adventure.
The great island of Kos hosts many parties that are generally concentrated in the island's biggest towns. There are clubs, bars, and restaurants serving fresh seafood and other delicacies that are suitable for everybody.
Outside Kos city are many quieter destinations like Tigakis and Mastihari, which makes this Greek island an ideal holiday destination for families as well.
Mykonos
Mykonos - credits: Natalia_Dobryanskaya/Shutterstock.com
Mykonos was famous for its exuberant clubs and night parties long before the rave industry flourished. It is by far the best Greek island for endless partying.
The bohemian appeal has not changed since the 1960s, but the once-empty beaches, now feature nail bars, personal trainers, and house music that pumps out every hour. The hippest and most expensive place to be on the Greek island apart from Mykonos Town is 'Scorpios,' a luxurious beach bar that puts Ibiza to shame.
However, at the same time, the otherwise party island of Mykonos can be tranquil and authentic in the off-season months, so if you're after a more relaxed type of vacation, this is the best time to visit it.
Kalymnos
Kalymnos - credits: Anna_Jedynak/Shutterstock.om
Kalymnos, a popular outdoor sports destination in Greece, is also a favorite destination for rock climbing. With more than 3,400 recognized climb routes on the island, the unique limestone structures are a perfect place to climb.
Several excellent professional guidebooks will help you climb knee-tumbling rocks without any difficulty, even for first-time climbers and novices. Of course, adventurers are also invited on scuba diving trips to the turquoise waters of the Aegean sea.
Corfu
Corfu - credits: Markus-Mainka/Shutterstock.com
The Greek island Corfu lies belongs to the Ionian islands, and its bright green and lush nature has become an important tourist destination for Greece. It is the driest and largest island of the Ionian islands and is culturally unique from the rest of the many Greek islands and mainland Greece in general.
Corfu was occupied by Venetians for many years and has, therefore, a more prominent western feeling than even most parts of Italy, which is evident across the entire island and especially in Corfu Town.
Karpathos
Karpathos - credits: Pawel_Kazmierczak/Shuttestock.com
The Greek island of Karpathos was mentioned in Homer's Iliad, and according to Greek mythology, it was the home of Titan Iapetus.
Karpathos isn't considered to be a touristy destination. It is a remote island that is also a cultural delight. In the peak season months and especially in August, the Greek island is the busiest, with visitors and summer festivals breathing life into it.
Don't hesitate to visit the Greek island of Karpathos if you're seeking vibrant and traditional village life with a relaxed atmosphere and lots of local culture available to explore.
Folegandros
Folegandros - credits: Paul_Shark/Shutterstock.com
Folegandros is one of the best Greek islands for authenticity and a bohémian buzz. The village square should be your first stop on any Greek island.
Its offbeat ambiance and pristine beaches make it the ultimate Greek island destination in the Cyclades for relaxing holidays that will take you away from mass tourism.
Crete
Elafonisi, Crete - credits: photoshooter2015/Shutterstock.com
Crete is arguably the best Greek island for those who want to admire the history, ancient ruins, adventure, and sunshine throughout the year. The weather of the island makes it a tip destination all year round, and springtime is especially beautiful for a jog or sightseeing.
The palace of Knossos is a beautiful place full of ancient ruins and culture you should include in your Crete itinerary at all costs. What's more, the 16 km-long Samariá Gorge also is packed with pilgrims you should explore if you're nature lovers and seekers of adventure.
Ithaca
Ithaca - credits: WitR/Shutterstock.com
The Greek island of Ithaca is a mythical retreat for lovers and loners. While the Greek island was allegedly the home of Odysseus, Homer's iconic character, it remains surprisingly under the spotlight.
Ithaca's emerald bays are famous among yachting enthusiasts, although only a minority of tourists are able to visit the forested hills. If you want to go on a trip with a friend, you may need a guide to explore and find the place where Odysseus lived.
Rhodes
Anthony Quinn bay, Rhodes - credits: Philippos_Philippou/Shutterstock.com
The famous island of Rhodes is arguably one of the most popular Greek islands and the best Greek island to travel back in time. Rhodes has everything from beautiful beaches to historic towns and traditional villages, and tourist attractions and remains one of Greece's best holiday destinations.
Explore the city's historic center and visit The Grand Master and Knights of Rhodes. Its interiors lie inside medieval walls, surrounded in the form of Gothic and historical buildings. After all, Rhodes Medieval Town is a UNESCO World Heritage Site for a good reason!
Thassos
Thassos - credits: Yiannis_Papadimitriou/Shuttestock.com
Thassos is a quintessential Greek island, benefiting from tourism infrastructure but without a large population. The island of Thassos offers some spectacular beaches, lush forests, and tranquil coastlines with a wealth of natural beauty.
The area has about sixty kilometers of coastline and many beaches worth exploring. Paradise Beach is a perfect place for family as the ocean is shallow and perfect for kids.
Naxos
Naxos - credits:saiko3p/Shutterstock.com
Let's start with the most popular of the bunch. Known as the Greek island favored by families with children, not only because most of the many beaches are sandy and shallow, allowing safe swimming, but also because of the wide offering of things to do that will keep your little ones entertained, Naxos is a sight to behold.
The whole southwestern part of the island, from the beach of Ag. George to St. Prokopi, Agia Anna, Plaka, and Pyrgaki, offers everything you could possibly ask for: crystal clear waters, organized, sandy beaches, and traditional taverns offering mouth-watering local dishes after your swimming endeavors.
A visit to Naxos Town in the afternoon is a must, as well as an evening walk in the green mountain villages of Apeiranthos and Filoti that maintain their traditional character. As for the sights that will impress history enthusiasts and children alike?
The archaeological ruin of Portara is the first thing you'll see when you enter the stunning Greek island, while the giant Kouros in Melanes is sure to impress even the most demanding of visitors.
Tinos
Tinos - credits: Georgios_Tsichlis/Shutterstock.com
Although it is hardly ever talked about, Tinos is one of the most misunderstood Greek islands because, in the minds of many, it is connected exclusively to the Christian churches that have made it famous.
And yet, it is a quiet Greek island with beautiful beaches, geological interests, and traditional settlements that are ideal for a walk, while its fantastic beaches offer a wide variety of water sports, including scuba diving and sea kayaking, that will satisfy those looking for an adrenaline rush!
For swimming, families prefer the beautiful beaches found in the southern part of the island, from Ag. Fokas to the beach of Ag. Ioannis Porto, as those are organized, sandy, and convenient.
However, if you are looking for more exotic landscapes, Kolimbithra and Kionia are the ones for you. In the settlement of Kionia, you will find the archaeological site of the sanctuary of Poseidon and Amphitrite.
What's more, a visit to the cave of Gastria, and the waterfalls near the beach of Livada, is also worth your while and can be combined with a visit to the mountainous traditional villages of Pyrgos and Volakas.
Syros
Syros - credits: Milan_Gonda/Shutterstock.com
Nicknamed 'the mistress of the Cyclades islands,' the Greek island of Syros is a cultural hub that combines beauty and sophistication. With gorgeous beaches, remarkable attractions and reasonable prices, I can't think of a single reason why you shouldn't visit it!
The capital of the stunning Greek island, which also happens to be the capital of the Cyclades islands in general, is Ermoupolis, a stunning town that will leave you awestruck the first time you rest your eyes upon it; its mansions, its alleys full of shops, and the central Miaouli square are only some of its beauties.
The island may not be famous for its exotic beaches. However, Galissas and Poseidonia/De la Gracia are incredible! Syros' selling point for me, though, is the little district of Ano Syros, the old town of the island. The cobbled alleys, the Markos Vamvakaris Museum, and the breathtaking view out to the sea make for a setting that is sure to be unforgettable!
Milos
Milos - credits: Jana_Hake/Shutterstock.com
The idyllic Greek island of Milos is famous for its lace-like coast that hosts over 75 small and large gorgeous beaches. With crystal clear, deep blue waters, colorful sculpted rocks, and white-gold sandy beaches, you are sure to be thrilled by the sight.
Due to the volcanic origin of its soil, Milos has an impressive morphology that offers diversity.
On the island, you can find both pristine beaches with golden sand and bays with pebbles surrounded by white, red, yellow, or even black rocks.
Additionally, in the traditional fishing village of Klima, the picturesque two-story houses with intensely colored shutters and doors, as well as the cute fishing boats, compose a colorful and picturesque setting that looks like it has come straight out of a fairytale.
Amorgos
Amorgos - credits: Kite_rin/Shutterstock.com
Amorgos is the easternmost Greek island of the Cyclades. It is in its privileged geographical position and its naturally protected port, the picturesque port of Katapola, that Amorgos owes its cultural development since antiquity.
Amorgos Town –or Chora- remains, if not the most beautiful, one of the most beautiful towns of the Cycladic islands, and it is located high above Katapola.
For a spectacular swim, take the road to Vroutsi, and you'll stumble upon the small but gorgeous beach of Agia Anna, one of the most popular destinations on the island.
Don't forget to plan a visit to the astonishing Monastery of Panagia Hozoviotissa, hooked like an eagle's nest on the steep cliffs. It does require a rather tiring climb, but it is more than worth the effort!
I think the guide above will help you determine the best Greek islands to visit with little to no effort of your own. Especially after those long COVID-19-filled months, the pressure to take full advantage of your annual leave and plan the perfect holidays is one more than it has ever been!
Final Thoughts
Luckily, when it comes to the Greek islands, choosing your destination is like choosing between bars of gold: no matter which one you pick, the outcome can't be anything but brilliant!
Alternatively, you can also choose not to limit yourself to only one destination but a few Greek islands by embarking on a Greek island-hopping adventure or booking one of our Greece vacation packages, filled with our amazing Greece tours!
Are you ready to have the time of your life and spend your days with sun on your skin, salt on your hair, happiness in your heart, and freedom in your mind?
Our Tailor-Made
Trip Planning
01
Hop on a quick call with a local expert from our team
02
Receive a tailor-made itinerary for your journey
03
Fine-tune the details and you're ready to go
Frequently Asked Questions
Which Greek island is best for beaches and relaxation?


Which Greek island is best for nightlife and partying?


Which Greek island is best for history and culture?
Which Greek island is best for outdoor activities and adventure?


Which Greek island is best for a family vacation?