Thursday, 23 December 2021 11:00
An Introduction to Greek Pastries and Cakes
Everyone and their mom know that Greece equals culture and amazing scenery; history and beauty blend together to form a marvelous, memorable experience. Alas, the Greek cuisine is equally -if not more- famous.
Walking around a Greek city, you are sure to find great food with a huge variety of dishes for breakfast, lunch, and dinner. Nevertheless, one thing that a lot of people don't realize is how sweet Greece really is.
Living in an ancient, small country, natives carry and impart their heritage from generation to generation and a big part of this knowledge is old, traditional recipes of cakes, cookies, spoon sweets, and other wonderful desserts.
Greek Cakes
Greek ravani cake - credits: Alexander Narraina/Shutterstock.com
Cake is a very common food that gets served as dessert, breakfast, and, sometimes (If you're naughty), dinner for people all over the world. What makes Greek cakes stand out are their unique recipes that mostly use Greece's produce.
Locals in every city, town, and village bake the most delicious cakes, using nuts and fruits, and, in this way, creating incredible and healthy delicacies.
One of the greatest cake-like foods that you can ever taste is the flavorful cake with syrup, called ravani. Ravani is made from semolina, drenched in orange syrup, and perfectly combined with ice cream. It is best served with a vanilla flavored ice cream or Kaimaki, a Greek classic ice cream with chewy texture and mastic flavor.
Another finger-licking good cake that is amazingly combined with ice cream is 'Karidopita'. It is a walnut cake, made with spices such as cinnamon and clove and drenched in syrup.
Athens for Foodies: A Greek Gastronomy Tour

LEARN MORE
Walk inside a Greek bakery or patisserie and with a single glance at this cake, you won't be able to resist its magical sweet look and taste.
If you are looking for a Greek cake recipe that is a couple of hundreds years old, Honey Pie or 'Melopita' is said to have been around since ancient times!
Known then as 'Melittouta', the ancient Greek dessert is still enjoyed in Greece, especially on the island of Sifnos. Much like a Greek version of the all time favourite cheesecake, honey pie is made with traditional mizithra cheese on top of a crust and served on a plate with drizzling honey and cinnamon.
For the jam lovers, the Greek jam tart is a must. From the first bite, you can taste the freshness of the organic, hand-picked fruits that have been used to create this scrumptious dessert.

Traditional Greek new year's cake known as vasilopita with a lucky coin inside - credits: Athina Psoma/Shutterstock
Last but not least, if you find yourself in Greece in the winter, you are lucky! The Greek New Year's cake, called Vasilopita, is a seasonal treat that everyone has to savor, made by following an old, religious tradition. Greek families gather together on New Year's Eve to celebrate.
Then, they cut the cake in pieces and each family member gets a piece. The cake, though, contains a coin and whoever finds the coin in their piece, is considered to be blessed with luck for the whole year.
Greek Spoon Sweets

Greek cherry spoon sweet - credits: Marie C Fields/Shutterstock.com
A single visit to a Greek house will probably lead to someone offering you a small, decorated, glass plate with syrup on it. The treat is considered too sugary, so it is served by the spoonful. Spoon sweets are simple to make and wonderful to taste. The recipe consists of water, seasonal fruits, and, of course, sugar. By combining these simple components, Greek people create a flavor like no other.
The variety of Greek produce allows the creation of numerous, different spoon sweets, however, the versatility of the Greek cuisine doesn't stop there; spoon sweets can also be used as a topping for yogurt or cakes.
Some Greek taverns will even treat you to a plate of yogurt and their traditional home-made spoon sweet as a dessert, after lunch or dinner. How could you refuse that?
Greek Cookies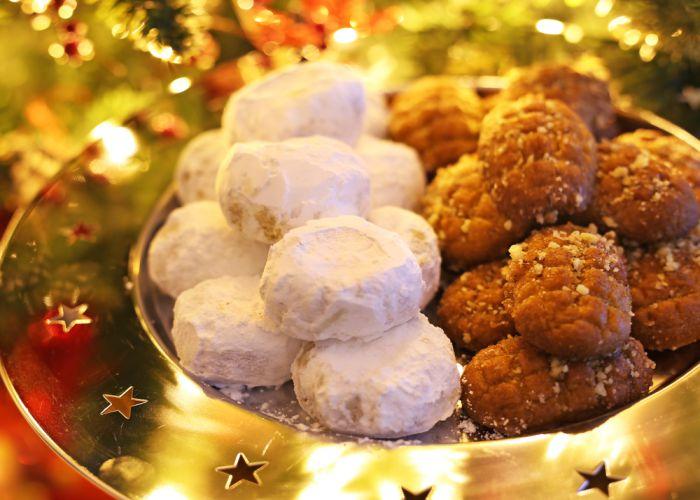 Traditional Christmas kourabiedes and melomakarona - credits: stella/Shutterstock.com
Visiting Greece on Christmas is a dream come true! Strolling around the buzzing streets, admiring the ornaments of Christmas trees, and experiencing the holiday season, you are sure to detect the aroma of the Greek Christmas treats.
One of them is Christmas butter cookies, otherwise called 'kourambiedes', are covered in confectioner's sugar, which might not be the healthiest of choices, it does, however, give them an unparalleled flavor. The Greek Christmas honey cookies called 'melomakarona', are usually made from semolina, scented with cinnamon and orange juice and drizzled with lots of honey.
The combination of these local flavors can take you on a quick tour around the Greek holiday traditions and their mouthwatering taste!
Athens by Night Food Tour & Wine Tasting

LEARN MORE
It would be a shame though, if Easter didn't have its own delicious cookies. Greeks have a sweet-tooth and it shows, as a Greek holiday can not be fathomed without its very own special treat. 'Koulourakia', the traditional cookies of Easter, are fluffy, crunchy and kneaded into braids.
Young kids are always looking forward to Easter, not only because the cookies are extremely delicious, but also because the preparation and braiding of the cookies can become a really enjoyable and fun activity for the whole family.
Traditional Greek sweets

Greek bougatsa - credits: Alexandros Michailidis/Shutterstock.com
Thessaloniki is the second biggest city in Greece, often considered by some the cultural and culinary capital of Europe.
If you happen to be in Thessaloniki, stop everything you're doing and rush off to taste Bougatsa, a custard pie with phyllo dough, garnished with icing sugar and cinnamon, and is usually served as breakfast. As a definite locals' favorite, you can't miss the chance to try it. In the Greek pastry shops of Thessaloniki, you can also taste a Greek rice pudding called rizogalo. You can thank us later.
Tip: Bougatsa or rizogalo are two of the 15 different tastings of Greek food that you can enjoy during our Athens Food Tour. *Wink wink*
Lastly, Pastel, a bar made of sesame and honey, is a light and nutritional snack. You can buy it everywhere in Greece, including convenience stores. You can either have it crunchy or soft and chewy and due to its small packaging, it's the ideal sweet to munch while taking a walk around Athens, while gazing at the Acropolis.
What makes it even more poetic? The very first mention of this age-old dessert is at Homer's Iliad, by Herodotus himself.
Traditional Greek pastries

The traditional dessert of loukoumades - credits: foodlove/Shutterstock.com
Of course, you cannot visit a Greek city, village or island and leave without eating some of the most well-known Greek desserts. These Greek honey puffs, known as loukoumades, are small, deep fried balls of dough with honey on top. If done right, the honey puffs are crispy, golden, and sweeter than Greece's sunset.

Greek baklava - credits: Alp Aksoy/Shutterstock.com
Greek halva is a vegan semolina pudding with raisins that takes you on a trip to flavortown. Depending on the region of Greece it is produced, Greek halva can also be flour-based or tahini-based. Either way, it is a healthy treat that you are going to love and is an excellent choice for an edible Greek souvenir, to bring back to all your friends!
Traditional Baklava is one of the sweetest remnants of the Ottoman Empire. A sweet pastry made of hundreds of very thin layers of phyllo, filled with nuts and covered with syrup. Baklava is probably the most famous Greek dessert in the world, and for a good reason; you can almost taste heaven in one single bite of this pastry.
The history, tradition, and beauty of Greece cannot be contained in museums. It is found everywhere around the country and especially in its culinary tradition. Greek pastries and sweets carry the smell and flavor of the authentic Greek experience.
Exploring the country, without tasting its gastronomic excellence is a job half-done; Don't miss the opportunity to unlock all of Greek past's secrets and book a Greek culinary tour of your choice to discover another side of Greece!